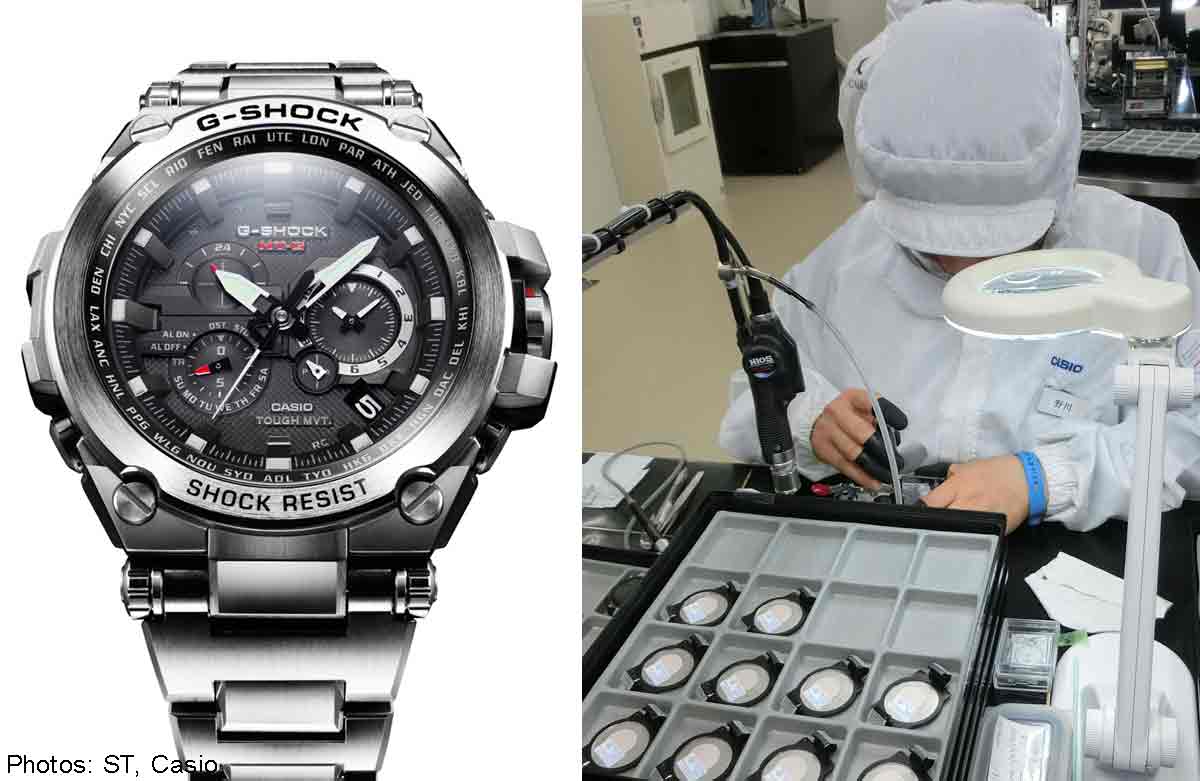 Singapore - It's surprising the G in Casio's iconic G-Shock doesn't stand for Guantanamo because a visit to its birthplace at Hamura R&D Centre, just outside metropolitan Tokyo, reveals a series of stress tests it undergoes to earn it itself the tag as the world's toughest watch.
In one room, a 5kg mallet is launched, pendulum-style, towards the head of a prototype to test for impact. Unsurprisingly, the watch survives unscathed but a cushion which it is flung towards doesn't and is starting to fall apart. The test is repeated 50 times before it's transported to another space where the prototype is attached to a special machine to simulate a fall from 10m for the same number of times.
That's not all, a centrifugal force and vibration test makes sure the watch stays in one piece even under the most extreme of conditions. When all that is done, it's put on another special device with a cloth rubbing against the resin 24-7 for a full week to test the resin's durability.
Invented and launched in 1983 by Kikuo Ibe, now Chief Engineer of Casio's Timepiece Division, after he accidentally broke his father's watch, the G-Shock had a slow start in Japan and was initially poorly received at home. But it became a hit in America where the watch was a symbol of street culture and that ironically made Casio's domestic market sit up and take note of the watch.
Income generator
Sales figures for G-Shocks last year - when the funky timepiece celebrated its 30th anniversary and featured numerous collaborations with street brands like A Bathing Ape and Stussy to haute fashion ones like Maison Martin Margiela and Maharishi - is expected to better 1997's when the watch's popularity was at its peak, reveals Tadashi Shibuya, leader of Casio Timepiece Global Strategic Marketing Division.
Timepieces continue to be a big income generator for the company and last year, it generated more than 100 billion yen in sales from 39 million watches sold. The demand for Casio watches has also led to production being outsourced to China and Thailand because the 34-year-old factory in Yamagata could no longer cope with the numbers.
Since November 2012, it has been converted into a Premium Production Line, where it manufactures only high-end models such as the elegant Oceanus collection, the sporty Protrek range as well as the new MT-G (metal-twisted G-Shocks); which are all available in Singapore exclusively at the G-Factory Premium boutique at Marina Bay Sands.
The latter was introduced late last year with an eye-popping retail price tag of just over $1,000 because of the watch's advanced technological capabilities as well as its fine craftsmanship. In the US and Japan, it sits proudly alongside Swiss watches in luxury timepiece boutiques.
In Paris, it was the first watch to be sold when Casio opened its first G-Shock boutique there in November 2013.
Modern update
The watch is a modern update of the classic G-Shock wrapped in a steel case - hence its name - instead of the usual resin. But it features the same durability thanks to the shock-absorbing alpha gel it uses and comes with the sort of bells and whistles such as sapphire crystals and anti-reflective coating that are only found on luxury watches.
A combination of high-tech machinery and a human touch is required to assemble the MT-G at Yamagata. Only Casio's best and most experienced employees who are awarded Platinum or Gold rankings - which they earn from tests and numbers of years working - are allowed to put the watch together. Wearing scrubs, they huddle around a G-shaped work station in a dust-free environment to put the final touches.
The complex nature of the job means only about 300 MT-Gs are produced daily. Three variants are currently available; a shiny steel model, a mysterious black one and a limited-edition 30th anniversary black version with red accents.
The introduction of the MT-G marks Casio's intention to become a serious contender in the analogue watch sector after dominating the digital one for the last four decades. The company's first foray into analogue took place exactly a decade ago with the introduction of the Oceanus collection, which continues to be manufactured exclusively in Yamagata to this day.
Yuichi Masuda, director and senior general manager of Casio Timepiece Division, says there is no intention for the company to move into the mechanical watches sector because it prefers to focus its know-how on digital. The challenge is combining that expertise with analogue and developing new movements through breakthroughs in their digital technology.
With the MT-G embodying the best of both worlds, it looks like Casio could be rewriting history.
The MT-G retails from $1,199 and is available at selected G-Factory boutiques. For more info, email timepieces@casio.com.sg or visit Casio Timepiece Singapore Facebook page

Get The Business Times for more stories.