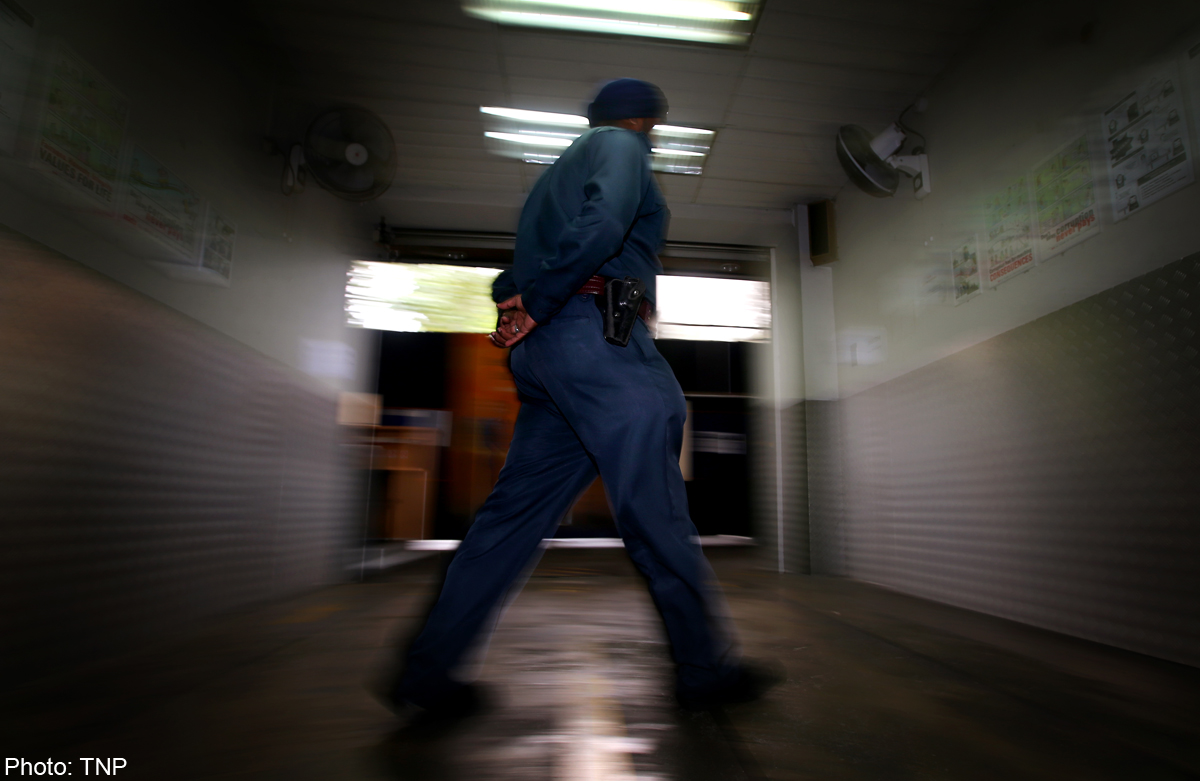 He was appalled but not surprised when he read about the two robbery attempts on money changers earlier this month.
The amounts involved were more than $1.4 million in total, and Certis Cisco sergeant Karamjit Singh, 44, knew people would go to great lengths when they are desperate for money.
After all, he was involved in a shoot-out with two robbers 22 years ago when they attempted to rob Tin Sing Goldsmiths, a shop on South Bridge Road.
Sgt Karamjit, who was then 22 and a constable, was the guard on duty at the goldsmith shop.
The attempted robbery made headlines when it happened on Nov 19, 1992. (See report on facing page.)
This was why he fully supported the advisory that the Money Changers Association (Singapore) sent out on Nov 18, urging its 150 members to hire armed guards when transporting large sums of money.
Although his presence did not deter the robbers back then, Sgt Karamjit said: "Without armed guards, there might be even more robberies. It is a good security measure to have."
He termed the shoot-out the most dramatic incident in his 23 years of experience as a Certis Cisco officer, saying: "That was a once in a lifetime situation that I can never forget."
The incident happened in his second year of working with Certis Cisco.
According to previous reports, there were about 30 employees and about eight customers in the shop at that time.
HELMETS
Sgt Karamjit had just returned to the shop after lunch at around 3pm, when two men wearing crash helmets with visors burst into the shop waving pistols.
One of them, who was about 6m away from him, shouted: "Don't shoot, or I will shoot you."
But Sgt Karamjit ignored his warning and reached for his service revolver.
"I knew I had to react fast as the safety of the customers and staff in the goldsmith was my responsibility," he said.
At that moment, the man opened fire.
Said Sgt Karamjit: "I felt something like a needle prick on my right thigh, but I was focusing on the robbers, so I brushed it aside."
The constable dived and took cover behind the centre showcase counter.
While aiming at the robbers, he also shouted for the customers and staff in the shop to take cover.
The man shot a few more times and Sgt Karamjit returned fire.
During the exchange of gunshots, one of the robbers was hit in the chest.
Said Sgt Karamjit: "It was just like a cowboy shoot-out.
"I was kneeling on one knee with my gun outstretched, while looking around both sides of the counter to make sure the robbers do not escape."
The two men suddenly ran out of the shop without any valuables and jumped onto a motorcycle parked outside the shop.
Sgt Karamjit gave chase, but as the robbers rode past the shop, the pillion rider fired a final shot that hit his right ankle.
The Certis Cisco constable felt a sharp pain, and when he looked down, there was a pool of blood forming at his feet.
As he sat on a chair in the shop, he touched his thigh and felt something sticky.
He said: "When I looked at my hand, it was covered with blood."
It was then he realised that the needle prick he felt on his thigh earlier was a gun shot.
But he remained calm and shouted for the staff in the shop to close the shutters while he dialled for the police using the shop's telephone.
Sgt Karamjit said on the first night following the attempted robbery, he kept having flashbacks of what happened.
But he decided to put the incident behind him and move on.
He said: "No point thinking about the past. It was either me or the robber who would die that day. I'm thankful I was shot only in the right leg, and not a fatal part of my body."
BACK TO WORK
The incident did not deter him from returning to the job, which he did after taking medical leave for six months.
Sgt Karamjit, who is now married with two teenage daughters, is an outrider who conducts enforcement against smoky foreign vehicles on roads.
He remains modest about his heroic deed, but still keeps a jotter book full of newspaper clippings about the incident.
Sgt Karamjit, who received a plate from Certis Cisco and a certificate of commendation from the police, said: "Maybe next time, I can show them to my grandchildren."
Auxiliary police officers have to undergo stringent selection process
Armed guards in Singapore come from Certis Cisco, Aetos or the Singapore Airport Terminal Services Security Services.
These Auxiliary police officers (APOs) have similar powers, privileges and immunities to police officers when they are on official duty.
Like police officers, they carry warrant cards and are subjected to disciplinary proceedings if they fail in their duties. Their rank structure and training are also similar to those of the police.
Those who are interested in becoming APOs must not have criminal records and must have at least three N-level credits. They go through a stringent selection process. This incudes being screened to ensure that they are medically and mentally fit.
Certis Cisco has about 3,200 APOs in charge of safeguarding government and commercial buildings while ensuring security.
Of this number, close to 200 APOs are in charge of escorting cash and valuables for numerous banks and retailers.
They can request to be placed there or be deployed to perform this task.
PSYCH TEST
Mr Richard Lau, senior vice-president of Certis Cisco group marketing and corporate communications, said: "During the interview and assessment by our recruiters, candidates are to declare their medical history.
"In addition, they are sent for a psychological test to determine their mental state before they commence their training."
He added that there is a team of 28 para-counsellors whom officers can approach for help in matters such as work stress and financial problems.
Candidates are required to attend eight weeks of mandatory training before being shortlisted, then recruited.
During the training, they go through modules which teach them unarmed tactics and how to handle firearms. They are assessed on the modules before being recruited. Those who fail are not hired.
On the job, they are equipped with a firearm, baton and plastic handcuffs.
Certis Cisco's armed escort service can be contracted on an hourly basis. Typically, each trip costs $100 or more, but rates vary based on the frequency, location and the volume of cash to be escorted.
ABOUT THE CASE
The two robbers involved in the shoot-out at Tin Sing Goldsmiths were armed not just with revolvers but several hand grenades as well.
The culprits were Ng Theng Shuang, 25, and his accomplice, Lee Kok Chin, 27, both Malaysians.
Lee, who was hit in the chest, fell off the motorcycle a short distance away and died.
Ng, who hijacked a passing station wagon and later fled to Malaysia, was arrested in Penang on Dec 29, 1993.
He was convicted the following year by the High Court and hanged in July 1995 for firearm robbery and discharging the weapon with intent to cause injury.
choomf@sph.com.sg
This article was first published on Nov 24, 2014. Get The New Paper for more stories.