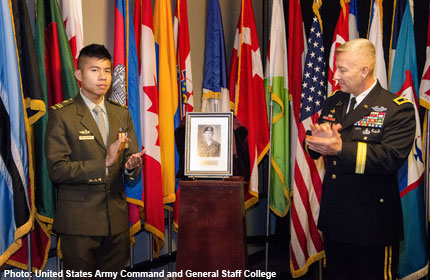 SINGAPORE - Social and Family Development Minister Chan Chun Sing has been inducted into the hall of fame of the United States Army Command and General Staff College.
The former Singapore army chief, who is now also Second Defence Minister, is the fifth Singaporean to be given the top honours at the military institution at Fort Leavenworth, Kansas, considered by many as the intellectual centre of the US Army.
The four others were Prime Minister Lee Hsien Loong and previous defence chiefs Winston Choo and Ng Yat Chung, and former army chief Han Eng Juan.
Receiving the award on Mr Chan's behalf on Oct 31 was Singapore Armed Forces Military Expert 5 David Cai, who is currently a student at the institution.
"He (Mr Chan) is doing great things for the country right now as a politician, so he definitely embodies the spirit of giving and doing good for the people," ME5 Cai told the military institution's publication FtLeaven worthlamp.com. "It's something I hope to emulate," he added.
Mr Chan excelled as a student at the US Army Command and General Staff College in 1998, and was the first foreign student to be conferred the "Distinguished Master Strategist Award" in the same year.
More than 7,200 foreign students have graduated from the college, with 262 officers from more than 69 countries having been inducted into the International Hall of Fame.
More than half of the college's foreign students have reportedly achieved the rank of a general, with 28 becoming heads of state. During Mr Chan's 24 years in the military, he assumed the positions of chief infantry officer and chief of staff-joint staff before taking over as army chief in 2010.
He stepped down a year later to join politics and was among the most prominent people to be selected for political office. In August, the 44-year-old Mr Chan was promoted to become a full minister, the youngest in the current Cabinet.
jermync@sph.com.sg

Get a copy of The Straits Times or go to straitstimes.com for more stories.