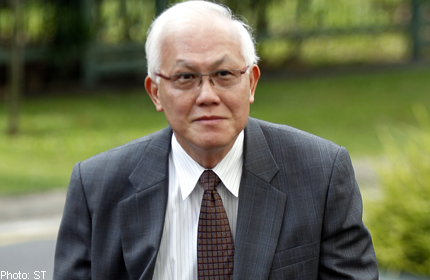 SINGAPORE - Auditor Foong Daw Ching could not remember which City Harvest Church (CHC) leaders he met or what they discussed.
But e-mails presented in court on Friday showed that former finance manager Serina Wee had met the co-founder of auditing firm Baker Tilly TFW to discuss financial matters and updated senior members afterwards.
Wee and five others are accused of misusing more than $50 million of church money to finance pop singer Ho Yeow Sun's music career and covering up their tracks.
Here are excerpts of what they said compared to what Mr Foong, 63, said:
CHC founder Kong Hee: Mr Foong endorsed Xtron Productions
Unnerved by the bad press over charity health-care organisation Ren Ci's financial mismanagement, church staff member Suraj had written to Kong about his concerns over CHC accounts and Xtron Productions' retainer not being watertight.
Xtron used to manage Ms Ho.
Kong replied that they should make everything watertight and asked for an internal audit.
He wrote in a July 2008 e-mail: "From what I understand, all the transactions with (Xtron) have the endorsements of Foong Daw Ching, who is a super conservative accountant."
Mr Foong told chief prosecutor Mavis Chionh he did not know what transactions Kong was talking about: "I don't see any reason why I should be the one endorsing it because I hold no position in both Xtron and CHC."
Serina Wee: Mr Foong gave advice not to minute everything
Wee told Kong that following a meeting, "Brother Foong's" replies to their new plans "were favourable".
In the August 2008 e-mail, which also included deputy senior pastor Tan Ye Peng and former church member Chew Eng Han, she described how Mr Foong advised the church not to record everything in the minutes when talking about Xtron to members at an extraordinary general meeting "so as not to show too close a relationship or control over Xtron".
Mr Foong denied this.
"I'm well respected in my profession," he said.
"Why would I, in my position, tell someone to do something that looks improper? It definitely did not come from me."
The internal e-mail that Wee sent to the pastors had a lot of inaccuracies, he added.
Tan to Wee: Meet Mr Foong off the record
Wee was concerned when auditors highlighted that Xtron was at risk of closure in the draft audit report for 2007.
Church board management member John Lam suggested removing that section (on risk of closure) as it would affect bank financing.
Wee was also concerned about the report mentioning CHC repeatedly, which "will be a problem cos (sic) anyone can obtain Xtron's accounts from Acra (Accounting and Corporate Regulatory Authority)".
She would insist the auditors remove the CHC references.
Tan, who was cc-ed in the June 2009 e-mail exchange, told Wee to meet "Brother Foong" off the record for advice on speaking to external auditor Sim Guan Seng "precisely becos (sic) we cannot show a link to CHC".
Mr Foong said he could not recall if the meeting took place.

Get The New Paper for more stories.