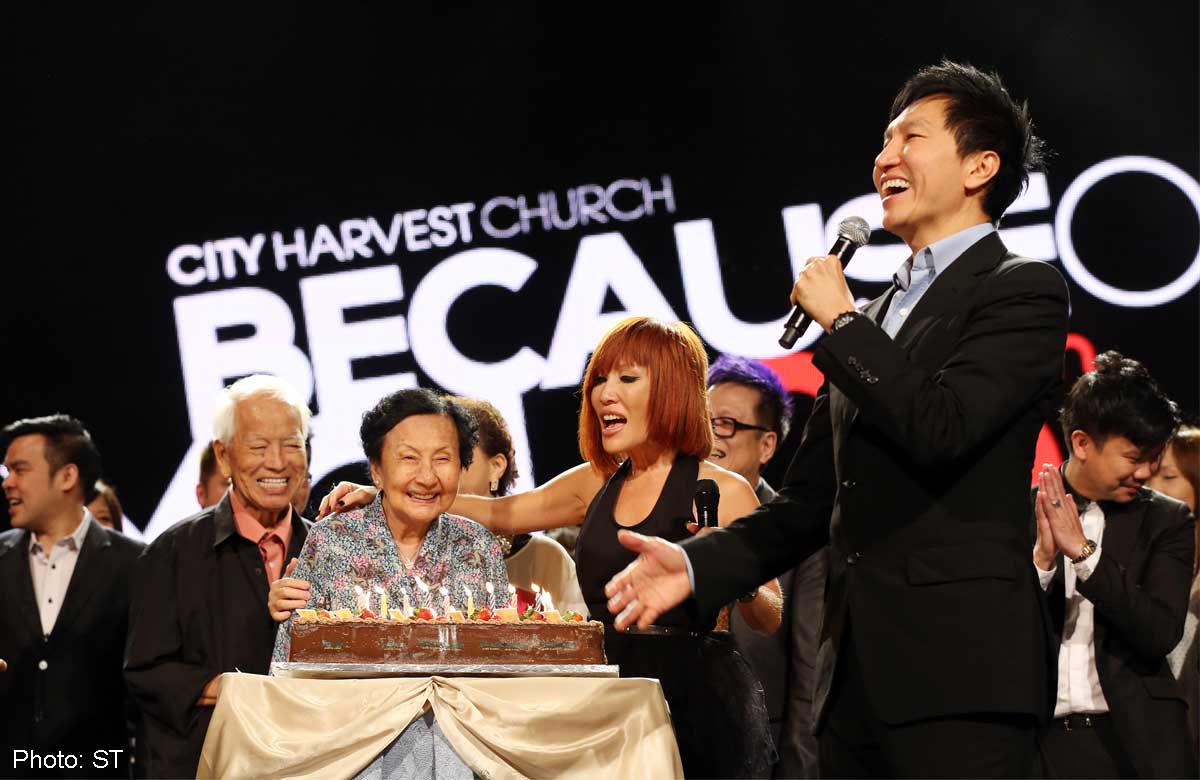 The controversial Crossover Project had the backing of an "overwhelming majority" of the City Harvest Church congregation, the church's founder, Kong Hee, testified in court yesterday.
He also described wife Ho Yeow Sun's pop albums and concerts as an "effective evangelistic tool", helping to triple the size of its congregation at one point. He took the stand for the first time yesterday in a trial that began on May 15 last year.
Kong and five others face varying charges of criminal breach of trust and falsifying accounts. These involve $24 million worth of church funds allegedly misappropriated to bankroll the career of Ms Ho, who performs under the stage name Sun Ho.
The accused also allegedly covered this up by "round-tripping" $26.6 million. This refers to carrying out a complex set of transactions that used church funds to repay the sums owed to itself.
Dressed smartly in a black suit, 49-year-old Kong calmly told the court how the Crossover Project grew out of a simple experiment. On the opening night of a June 2000 event organised by City Harvest to train church pastors and leaders in Asia, he had asked Ms Ho to tweak pop song lyrics to include gospel messages.
"Instead of saying, 'I love you', she would sing, 'I love you, Jesus'," Kong explained. The response from the young delegates was "overwhelming". When they tried this again in a Taipei church two months later, he claimed "hundreds" accepted Christ.
The next turning point came in 2001, when music videos featuring Ms Ho were shown to a Sony Music executive, who suggested that she had the potential to become a pop artiste.
Having been told earlier that gospel music was "not widely accepted" among Taiwanese youth, whom the church wanted to reach out to, Kong decided City Harvest would "engage the world of Music Television (MTV), and through it... preach the gospel of Jesus". When he told the church his plan, "they went wild", he said.
Ms Ho eventually signed with recording company Decca.
In January 2005, when his son was born, Kong said he asked the church whether his wife should continue with the project. A poll of 1,700 members was carried out and 90 per cent said she should continue, Kong said in court. Members supported the Crossover Project financially, he added.
He described Ms Ho's concerts for her third album as a huge success. He told the court 280,000 attended them and 100,000 filled out cards with their particulars for follow-up action.
"To the best of my understanding, it hasn't been done this way... From what I can recollect in recent church history, perhaps in Christendom," Kong said of the Crossover Project.
Between 2002, when the project began, and 2007, Ms Ho released five Mandarin albums in Taiwan. In 2003, she took the project to the United States, where she subsequently released five English albums.
But the project began attracting criticism for her risque music videos, including China Wine in 2007, and her skimpy outfits.
Last year, the megachurch had a congregation of 18,192 in Singapore, a drop from its peak of 33,000 before investigations started in 2010.
Accused warned on 'privileged' documents
It was revealed yesterday that the current board of City Harvest Church (CHC) has warned one of the accused against presenting certain "privileged" documents as part of his defence.
Last Friday, a letter was sent by the church's lawyer Desmond Ong to former church investment manager Chew Eng Han that threatened to take "all necessary steps" to protect the church's interests. This includes applying to the court for an injunction preventing the documents from being introduced as evidence.
Deputy Public Prosecutor Christopher Ong, who brought this to light yesterday after receiving a copy of the letter, said any litigation between the church and Chew could end up lengthening what is already a long trial that began in May last year.
It has seen only one of the six accused, former board member John Lam, finish his time on the stand. Trial dates have been fixed up to the end of next May.
"If Mr Chew becomes caught up now in any satellite litigation with the current CHC board, it is very likely it may delay the trial especially since Mr Chew is an accused person and is defending himself," said DPP Ong.
Presiding Judge of the State Courts See Kee Oon said that if the church wants to claim privilege on certain evidence, its lawyer may have to make his arguments in open court.

This article was first published on August 12, 2014.
Get a copy of The Straits Times or go to straitstimes.com for more stories.