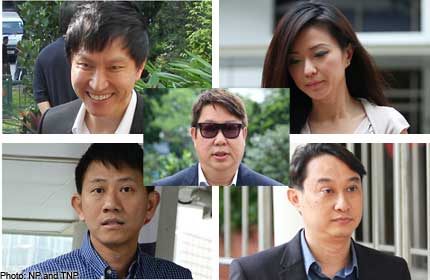 SINGAPORE - One second is all it takes to press the send button and fire off an e-mail or mobile phone message.
But that electronic dispatch lives on for much, much longer.
And years later, it can be submitted as evidence in court, as in the City Harvest Church (CHC) leaders' trial, where founder Kong Hee and five others are accused of misusing more than $50 million of church funds through sham bonds.
Their defence lawyers are arguing that there was no wrongdoing as the bond investments are common business practices.
But the way the money was channelled through a series of church-linked companies was dishonest, the prosecution countered.
As the courtroom drama plays out, e-mail and text message exchanges have been highlighted to detail the alleged insider knowledge about fund movement among the accused.
For instance, the prosecution pointed to e-mail exchanges from accused Serina Wee, who called investment gains from transactions "our money", which contradicted Indonesian tycoon Wahju Hanafi's stance that the funds were under his control.
The New Paper understands that about 100 pieces of digital evidence have been submitted so far. We follow the electronic trail.
Computers Seized
Acting on a tip-off, officers from the Commercial Affairs Department (CAD) raided CHC in May 2010.
They seized computers and documents from the church's offices, visited individuals and firms related to the probe and took away records and accounts.
E-mail and messages were scrutinised.
They also spoke to Kong and other people involved in handling the church finances.
In June last year, CAD officers arrested Kong at his Sentosa Cove penthouse in a predawn raid. Four others were also nabbed around the same time.


E-mail Evidence
Submitting e-mail as evidence is not new. It falls under the Evidence Act, which governs the eligibility of electronic evidence including e-mails.
The law in this area progressed significantly in 2010, said lawyer Bryan Tan from Pinsent Masons.
"It was expanded to give judges wider discretion in admitting evidence and also with four presumptions being created to aid the process," he said.
But there are several challenges when dealing with electronic evidence like e-mail.
Mr Tan, who co-authored the Singapore chapter of the book Electronic Evidence, said: "Concerns include authentication, or whether the message has been altered from the time it was sent to when it was produced."
Verifying the identification (such as who the email was sent to and who received it) and the chronology of when the e-mail was sent and received are all important factors, he added.
E-mail, messages reveal...
Crossover project
The Crossover Project was started in 2002 for Ms Ho Yeow Sun to become a successful pop singer, so she could preach to those who do not usually associate themselves with the church and Christianity.
Indonesian tycoon Wahju Hanafi, 53, agreed to sponsor it. But even after forking out close to half a million dollars to cover Ms Ho's bonuses and advances for 2006, there was still a shortfall of more than $110,000.
So former church finance manager Serina Wee, who is one of the accused, suggested to Kong's second-incommand, Tan Ye Peng, in a March 2007 e-mail that they approach previous sponsors.
"We can explain to (the sponsors) that because of public scrutiny, we don't want Xtron Productions (the company managing Ms Ho then) to be seen giving money to her beyond her salary," Wee wrote in an e-mail.
"The directors of Xtron wanted to bless her during her birthday, for example, and since we have individual sponsors, it will look better on Xtron's accounts if the sponsors indicate they are giving to her personally."
But big bucks were needed to enlist the who's who in the US music industry for Ms Ho's US debut.
Ms Ho's US-based marketer Lisa Ellis felt that having a US$10 million (S$12.7 million) budget to promote the album was "in line with Shakira's marketing budget (of US$12 million)" and less than Beyonce's US$17 million.
E-mail exchanges also showed that nearly $700,000 had been pencilled in for Kong's airfare, as part of a projected $28.6 million plan to promote the album in Asia which could be met through the sale of bonds.
As Sun Ho, she released several English singles while in the US. The album has yet to be released.
Love gifts & real
Mr Wahju wanted to give Kong something different.
So he offered a multi-million dollar Oceanfront penthouse at Sentosa Cove as a "love offering" around 2007.
The plan was for them to buy the property together and sell it later at a profit. So both men took a bank loan and each paid $17,000 monthly for the mortgage. But their business opportunity soured when the financial crisis hit in 2008.
Mr Wahju had to clear a multimillion- dollar debt he took on for a Jakarta glass factory, PT The First National Glassware (Firna).
He also needed about US$2.5 million to pay for his daughter's wedding and his workers' bonuses.
When the banks wanted clients to top up their loans to cover against their property values going down, Mr Wahju wanted to cut his losses by selling the Singapore properties - a move that Tan criticised in an e-mail, saying Mr Wahju was concerned about saving face.
When told about Mr Wahju's cash flow problems, Kong said to him in an e-mail dated November 2007: "I just feel bad that I have incurred extra burden for you through the Oceanfront project."
They still co-own the penthouse.
But when it came to buying a $2.2 million New York property for Ms Ho, Mr Wahju said no because "I needed the money more than her at that time".
Wee had suggested he transfer the amount and later clarified in an e-mail that the money should come from Ultimate Assets, the trust company managing Ms Ho's singing career.
Fund sourcing, money laundering fears
Shortly before the Commercial Affairs Department (CAD) called in senior church members for investigations in 2010, CHC leaders were frantically sourcing for loans, even those that came at 16 per cent interest.
The purpose of the loans was not clear.
A Blackberry discussion on March 30, 2010, showed Kong had asked his fellow accused, former church member Chew Eng Han, and pastor Aries Zulkarnain, who is not among the accused, if they had time to "plug the hole" should an extraordinary general meeting be called on April 18. It was not clear what "hole" he was referring to.
Chew replied that "it is too tight if we want actual funds to have been paid". Mr Aries suggested that Mr Wahju use Firna to get loans. The latter was "cautious cos even though it's legal but it's also hush hush", Mr Aries told Kong in a Blackberry message a day earlier.
After the CAD probe, Mr Wahju decided to borrow money from the banks, rather than CHC or Xtron. But he had been unsettled about the transfer of funds as early as 2008.
In an e-mail at the time, he told the accused Tan and Chew: "We can't just draw down money same day as it comes in, as I have explained before, it will be too suspicious, like money laundering."
In bond transactions, large amounts of money are moved in and out of bank accounts within a short time - and banks have been strictly monitoring such fund flows since financial services firm Lehman Brothers collapsed in the 2008 global crisis.
Complex Money Flow
Mr Wahju said Xtron directors were responsible for the company's final decisions and were not controlled by the church leadership, though they shared the church's vision.
Yet he later admitted there was a period of time in late 2007 when he was not in control at Xtron. When he faced a cash-flow crunch that year, church leaders went to his aid.
Wee told him in an e-mail that more than $1.5 million would be loaned to him - an amount Mr Wahju thought was from the church but later realised came from Xtron, the company he was director of.
While $990,000 was interest-free, the remaining $600,000-plus carried 7 per cent interest. This was the same amount Mr Wahju had given to the church-building fund in 2003 and converted into an investment in Xtron.
Since he needed the money, Mr Wahju said he had to accept the loan and think about repayment in January or February 2008.
He told the court that there was "nothing wrong"with Xtron lending him money as he was ultimately liable for Xtron's losses via a personal guarantee.
Mr Wahju also did not have the money when the church leaders wanted back the $11 million that had been invested in Firna bonds before maturity.
So they allegedly took the sum from investment company Amac Capital Partners, run by Chew, and routed it, with Wee detailing in an e-mail to Mr Wahju and Chew how the money would move from one company to another and when.
In several e-mail, Wee revealed she was unsure about classifying the investment gains "as belonging to us or (Mr Wahju's) personal (transactions), because technically he is using our money".
But Mr Wahju insisted it was his money.

Get The New Paper for more stories.