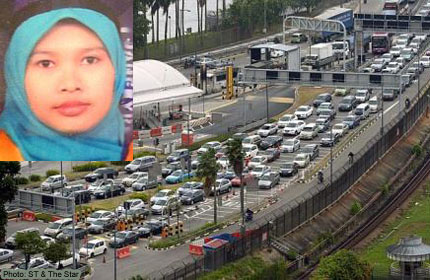 Woodlands Checkpoint commander Ong Choon Beng was prescient when he illustrated the cost of a slip-up in border security with a football analogy last year.
"You can be Peter Schmeichel and save 10,000 goals, but let one through and people say you're kayu," he told this paper in October, contrasting Manchester United's former star goalkeeper with the colloquialism for "deadwood" or "useless".
Three months on, a Malaysian teacher entered Singapore through Woodlands Checkpoint without the required checks, by tailgating a car and not stopping for a secondary check of her car boot.
Nurul Ruhana Ishak, 28, then gave police the slip for three days, until she tailgated another car into the Ministry of Foreign Affairs and was arrested for criminal trespass.
This breach, by a woman said to have had a long history of mental illness, surprised many who trust our officers to guard our borders, especially since the terror threat hit closer to home in the past decade.
I read Deputy Prime Minister Teo Chee Hean's account last Monday in Parliament of how the latest slip-up happened, wondering if it was an isolated incident.
The woman slipped past a drop-arm barrier by tailgating a car. The officer raised the alarm 21/2 minutes later after consulting another officer. In those 21/2 minutes, the woman drove on and did not stop for the second check. An auxiliary police officer there also did not sound the alarm.
Mr Teo called it a "serious security breach". His account suggested many bases were covered, which should have made such a breach unlikely.
Were the officers inexperienced? No. They have been in the service for some years with a generally good record.
Were they in doubt? Well, it's Standard Operating Procedure to promptly raise the alarm. One may argue knowing the SOP is different from following it when a breach occurs, but they are trained for it. Auxiliary police officers, comprising 20 per cent of checkpoint staff, have regular drills, exercises and audits.
They are also told to err on the side of caution: There is no penalty for a false alarm. Were they overworked or understaffed? Manpower was beefed up after a 2008 study on whether Home Team officers were overstretched.
Immigration and Checkpoints Authority (ICA) officers also did not raise operational fatigue as a concern in its latest organisational health survey in 2011.
With these measures in place, why the slip up? Why did the officer need to consult another person before activating the alarm, if it was SOP? Did they not feel the urgency? Were they distracted? Were they complacent?
What is clear is that as a whole, the team stopped one intrusion every few months. In 25 of 26 reported cases from 2011 to last year, officers promptly sounded the alarm and halted the vehicle in the checkpoint. One person got away by crashing through a security barrier and leaving by a staff access lane. The driver was caught within two hours.
Also, the team screens 50 million vehicles a year at one of the world's busiest land checkpoints. Based on this evidence, it seems there is little likelihood of a culture of complacency.
Another surprising revelation was the ensuing double failure of ICA and police ground commanders. They did not follow protocol and misclassified the breach only as an immigration offence. As a result, no high-priority alerts with the details of the woman and her car were issued to all ground forces, who could have put up road blocks and kept a lookout.
Mr Teo zoomed in on ICA-police coordination as the weak link.
He called on the Home Team to be "fully internalised and operationalised, both on the ground and by commanders at all levels, to tackle our security challenges as one united entity".
Coordination lapses affecting checkpoint security are seldom heard of publicly. More frequent drills and joint exercises are in the works.
Police will also treat all checkpoint security breaches as high-level security threats and take all steps to find the intruder. It is a "better safe than sorry" approach. The challenges will intensify as traffic increases and threats grow in complexity.
Singapore's security "goalkeepers" cannot afford to let down their guard. We expect them to be more vigilant and work as one team.
chinlian@sph.com.sg

Go to Singapolitics for more stories.