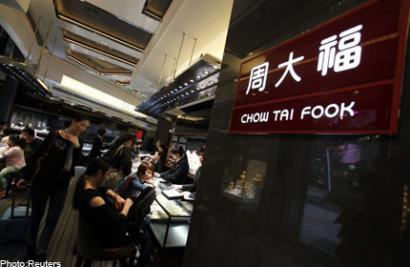 BEIJING - China has fined five domestic jewellers 10.1 million yuan ($1.7 million) for fixing their prices, state media said on Monday, the second time in less than a week that authorities penalised firms found to be anti-competitive.
China News Agency said the country's top economic planner, the National Development and Reform Commission, fined the five Shanghai-based firms after investigations showed they had fixed the prices of gold and platinum jewellery.
The companies agreed to a price calculation formula that limited price fluctuations to within a range, the agency said.
The Shanghai Gold and Jewellery Trade Association was also fined 500,000 yuan for supporting the price-fixing.
The size of the penalty was considerably less than the $110 million in fines meted out last week to six milk powder makers, including Mead Johnson Nutrition Co, Danone and New Zealand dairy giant Fonterra after they were found to be fixing prices.
The government is also investigating 60 foreign and local pharmaceutical firms, including GlaxoSmithKline, for manipulating prices.
The five jewellers fined were Shanghai Laofengxiang Co, Ltd, Shanghai Laomiao Jewelry, Shanghai First Asia Jewelry, Shanghai Cheng Huang Jewelry and Shanghai Tianbao Longfeng. The $1.7 million fine amounts to about 1 per cent of their 2012 sales.
Chow Tai Fook Jewellery Group Ltd, the world's biggest jewellery retailer by market value, is also being investigated for price fixing, China's official People's Daily newspaper reported last month.
Chow Tai Fook has said it follows "its own gold pricing mechanism, and is not subject to the constraints or restrictions of any association or other jewellery retailers".
A spokesperson for Chow Tai Fook contacted on Monday said the company has not been fined.