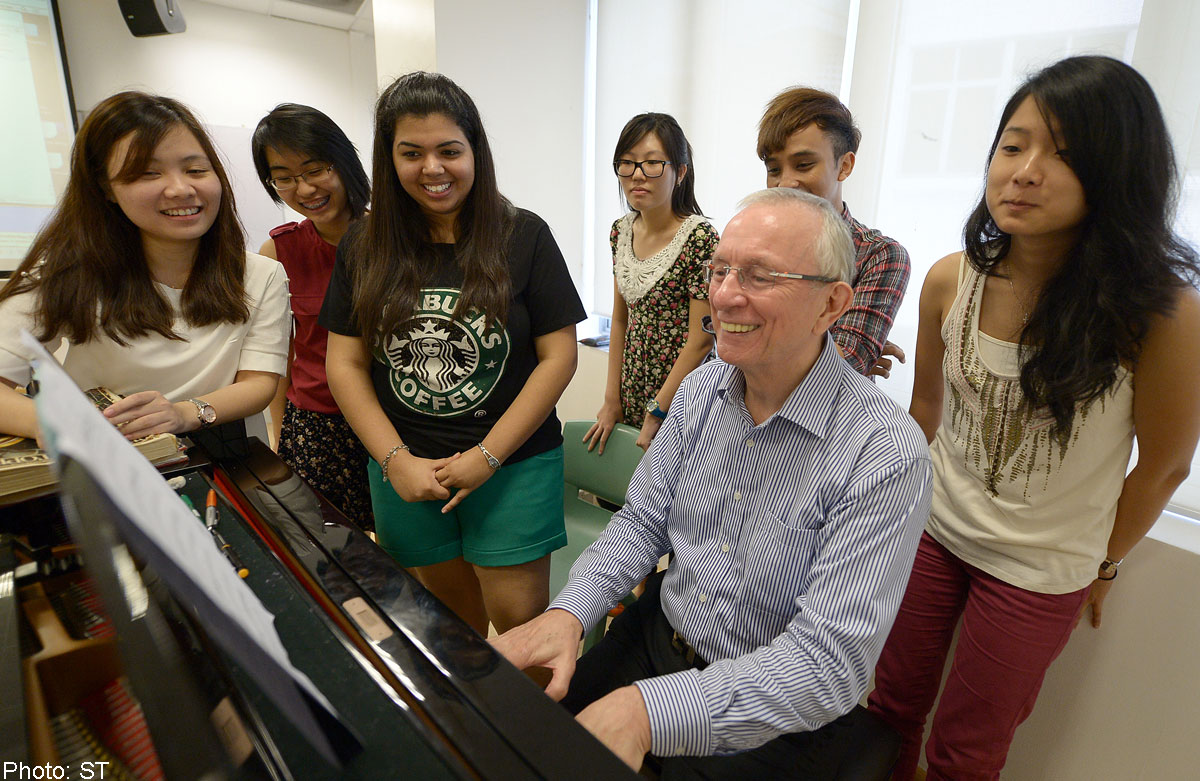 Cantopop classic Shanghai Beach and Scottish bagpipe music can hardly be more different.
Yet when British composer Eric Watson first heard Hong Kong singer Frances Yip's rendition of the song about 30 years ago, he was struck by its use of a five- note scale common in bagpipe tunes and his interest was roused.
Since moving here in 1990, the Singapore permanent resident has become known for infusing Chinese, Indian and Malay influences into his compositions.
Today, the 67-year-old's passion for mixing East and West will see him become the first non-Chinese to receive the Outstanding Contribution Award for New Immigrants from Chinese association Hua Yuan.
Mr Watson, whose work has been featured in 2001 and 2007's National Day parades, said he was honoured to be the first "ang moh" to be given the award.
"I see Singapore as my home," said Mr Watson, who teaches music at the Nanyang Academy of Fine Arts and is married to a Singaporean church pastor. "I am happy that my contributions to the country as a musician and a teacher has been recognised."
Three others originally from China - calligrapher Gu Jianping, 60, engineering professor Lian Yong, 52, and physics professor Feng Yuanping, 56 - will also receive the award during a ceremony at Marina Bay Sands tonight.
The winners were selected from over 200 nominees by a panel of judges who included academics and MPs.
Hua Yuan chairman Wang Quancheng said that it decided to extend the award to non-Chinese for the first time to reflect Singapore's multiracial make up.
In another first, a non-Chinese is also being presented with the Friend of Immigrants Award, which recognises Singaporeans who helped new arrivals fit in.
Mr Krishnasamy Vithalingam is president of Singai Tamil Sangam - an association which organises events for Singaporeans to mix with newcomers from India.
The 73-year-old, who has been involved in planning his association's activities for over 40 years, said: "We should be more welcoming to new immigrants. If not, everyone will be stuck in their own comfort zones."
The other winner of the prize is Mr Lim Huan Chiang, Radin Mas Citizens' Consultative Committee chairman and Singapore Chinese Press Club president.
The awards, which are organised with Tan Kah Kee International Society, which promotes the importance of education, were first given out in 2010.
Mr Wang said highlighting the ways newcomers contribute to society can help ease tensions between foreigners and locals.
"We hope the awards will help Singaporeans see a different side of new immigrants," he said.
Hua Yuan, which represents immigrants from China here and has over 5,000 members, is planning more activities to encourage foreigners and locals to mix.

Get a copy of The Straits Times or go to straitstimes.com for more stories.