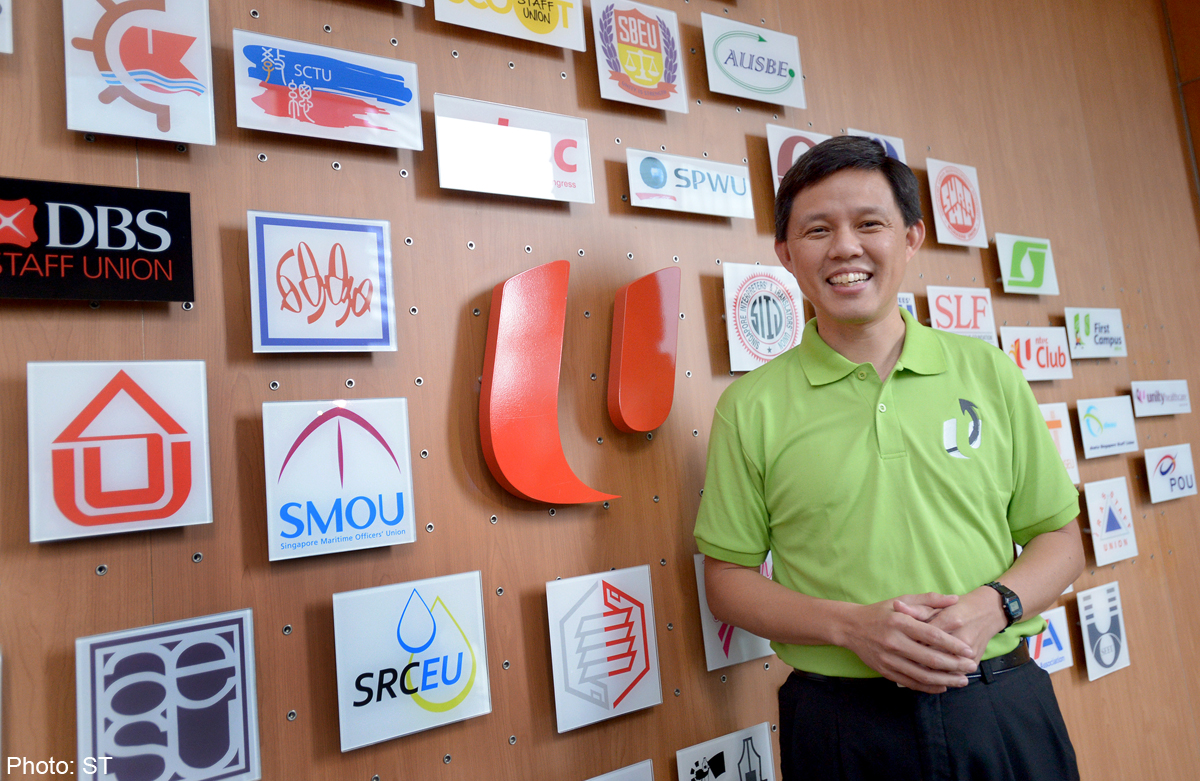 Union leaders said yesterday that they felt Cabinet minister Chan Chun Sing had the right qualities to join and lead the National Trades Union Congress (NTUC).
But they noted that he still has to win the hearts of union leaders in the coming months to get their votes to enter the NTUC's top ranks, a key step to being appointed labour chief.
Said veteran unionist Cyrille Tan: "He has three qualities: he has a heart, he cares and he is prepared to learn."
"It's important for him to learn the ropes now and get to know as many union leaders as possible so he can prepare himself for the election," Mr Tan added.
While Mr Chan will be appointed to NTUC's highest decision- making body, its central committee, next week as a deputy secretary- general, the committee will be dissolved when its term ends by the end of this year.
Like others vying for a spot in the new committee, Mr Chan has to win the vote of union leaders. But those who have worked with him cite several qualities that stand him in good stead.
"He can connect with workers by speaking English, Mandarin, dialect and Malay," said labour MP Ang Hin Kee, who is the executive secretary of the National Taxi Association (NTA), where Mr Chan has been chairman since 2013.
Taxi driver Ken Chin, an NTA branch official, said Mr Chan made it a point to have coffee with taxi drivers regularly.
"He helps us make appeals to the taxi company and the authorities on matters like taxi rentals and Electronic Road Pricing charges," said Mr Chin.
Mr Chan's personal touch has also left an impression on National Transport Workers' Union general secretary Fang Chin Poh.
He was surprised to get a call on his mobile phone from Mr Chan in 2012, to discuss a speech Mr Fang was to make at the People's Action Party conference that year. "I thought for a minister to look for my mobile number and call me shows he is a man with no airs," he said.
Mr Fang added that Mr Chan's time in office as Minister for Social and Family Development has prepared him for the new role, saying: "I believe he can use his experience to raise issues that low-income families and workers face."
At age 45, Mr Chan is one of the youngest ministers. This could be a plus point when reaching out to workers, added Mr Mohamed Yusoff, a branch chairman and executive committee member of the Food, Drinks and Allied Workers Union.
"I think he will connect better with the next generation of workers," he said.
tohyc@sph.com.sg
joseow@sph.com.sg

This article was first published on Jan 24, 2015.
Get a copy of The Straits Times or go to straitstimes.com for more stories.