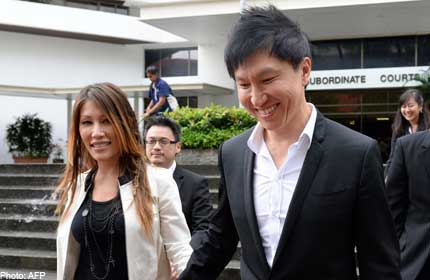 SINGAPORE - They were serious about the Crossover Project succeeding in the US.
So serious that City Harvest Church and Xtron Productions, the company that used to manage pop singer Sun Ho, had a gameplan worth more than $1 million in place.
Ms Ho would front the church's mission to reach out to non-Christians through music.
There would be a professional management company to manage Ms Ho's activities in the US. Big names would be roped in to produce and promote her album. Her husband, church founder Kong Hee, handled the communications.
Mr Edwin Tong, Kong's lawyer, revealed these in court on Monday.
Kong and five others are accused of misusing more than $50 million of church funds through sham bonds to finance Ms Ho's singing career.
The cost
Indonesian tycoon Wahju Hanafi was willing to sponsor the project that would make Ms Ho popular and "win (over) young people's souls".
But he and other sponsors were not blindly pouring in their money, said Mr Tong, who pointed to a series of e-mail exchanges showing that Kong had clear goals about the US venture.
Kong had sought US-based manager Justin Herz's advice on the scale of the project in February 2005.


"I just need to know the direction that we are going for. Are we going for a US$1.5 million (S$1.9m) and above job or are we doing something even smaller than Sun's Asian projects?" Kong had asked.
Mr Tong said that showed Kong wanted to know Ms Ho's chances at success. She was already successful in Taiwan and Hong Kong.
Kong had also asked how much Xtron would have to fork out, how much Xtron would recoup and when the returns would come in.
"I just need some ballpark figures to ensure that when we need the money, they have already put that aside in their budget," Kong wrote.
He also questioned Mr Herz's "gut feeling" on the debut album sales and the number that must be sold "to get a respectable review by the media and press".
Mr Herz replied that reviews were not related to sales. He wrote: "We would want to sell 100,000 pieces and have 2-3 singles of radio success... knowing that if we sell 100,000 we have a great shot at going much further."
All the discussions about budget, sales and timeline showed how seriously the project was being taken, Mr Tong added.
Second album
While the Xtron directors were prepared to shoulder some losses for Ms Ho's debut album, they were concerned about having enough money for the second album.
In a January 2006 e-mail, Kong asked Mr Herz about the money that would be channelled back to Xtron after deducting royalties.
"This is vital because it will determine how much money we would have to do the second album," he said.
"Based on the current clauses... it doesn't seem like Xtron will get even a third of the ($1.2 million) budget for an album. How could we proceed then to the next album?"
Kong also spoke about the Xtron directors' discomfort over Ms Ho's US contract.
"They (the directors) are fully prepared for some financial losses with Sun's upcoming debut album. But they want a contract that makes sense, and makes a second album probable.
" There has to be a way that if we could only sell 100,000 to 150,000 CDs, Xtron would have enough money to go on for a follow-up album.
"Otherwise, the directors are getting a little jittery about the whole project, especially after they have read the proposed contracts."
While Mr Wahju had money - his net worth is about US$400 million - and was willing to "still go for it" even if Xtron had losses below $1 million, he expected Xtron to recoup up to $30 million if the album had launched as planned in 2010.
Mr Tong said all these showed the project was not a blasé exercise.

Get The New Paper for more stories.