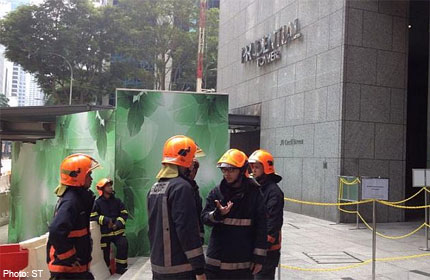 Two men trapped on a gondola that was hoisted up 30 storeys, were rescued by Singapore Defence Force (SCDF) officers on Saturday afternoon at Prudential Tower on Cecil Street.

Get the full story from The Straits Times.
Here is the statement from SCDF in full:
The Singapore Civil Defense Force (SCDF) was alerted at 1356 to an incident of smoke showing from the rooftop of a building at 30 Cecil Street.
SCDF deployed for 4 fire engines 5 supporting appliances.
The fire involved the gondola control panel located at the rooftop of the building.
The fire was safely extinguished by SCDF. Two male Chinese workers in their 40s, who had self-evacuated from the gondola onto a concrete beam of the rooftop were lowered to safety by DART rescuers. No injuries were sustained by the workers.