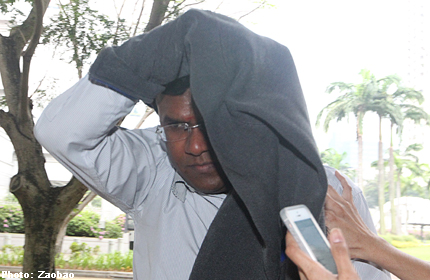 SINGAPORE - An aircraft technician who raped a 16-year-old girl in the back seat of his car was sentenced to 12 years' jail and 12 strokes of the cane on Friday.
Sivakumar Selvarajah, 45, flinched when the High Court convicted him and handed down the punishment.
His wife, who was seated in the public gallery, was seen wiping away tears.
He is appealing, and is out on bail, which will be doubled to $80,000 since he was found guilty.
Asking for leniency, Sivakumar's lawyer Foo Cheow Ming said it was "plain" that no violence was involved, and the victim did not sustain any injury.
But Justice Choo Han Teck agreed with Deputy Public Prosecutor Ng Yiwen on the appropriate punishment.
He convicted Sivakumar on a charge of rape and two others of oral sex and outrage of modesty, but cleared the man of impersonating a police officer to get her to perform the sex acts.
The judge did not give his reasons.
One afternoon in July 2010, Sivakumar had approached the victim and her boyfriend, who were being intimate in a car at a Woodlands multi-storey carpark.
He threatened to charge them with engaging in sexual activity and littering, as the boyfriend had thrown out a condom, said prosecutors.
Taking a picture of rubbish below the car with his phone, Sivakumar warned that he had evidence and that their futures were at risk.
He gave the couple a choice - either go with him to a police station, or the boyfriend could leave while he drove the girl home. The girl obeyed as she was feeling scared, said the prosecution.
While driving her home, Sivakumar pressured her into having sex with him in the back of his sports utility vehicle in Tampines Industrial Avenue 4.
Sivakumar had insisted during a six-day trial last month that he stopped his car at the carpark after he spotted two teenage boys behaving suspiciously.
He then saw the couple littering, and confronted them.
He claimed to have been concerned whether the girl's parents knew where she was, after asking the couple for their identity cards and catching her out for lying about where she lived.
He said it was the girl who volunteered to let him drive her home, and the boyfriend had agreed to it. She also initiated their subsequent encounter by offering sex for $200, and picking the spot.
Deputy Public Prosecutor S. Sellakumaran had argued that Sivakumar had concocted the story to explain how the girl ended up in his car.
Rape carries a maximum penalty of 20 years in jail, plus a fine or caning.
pohian@sph.com.sg

Get a copy of The Straits Times or go to straitstimes.com for more stories.