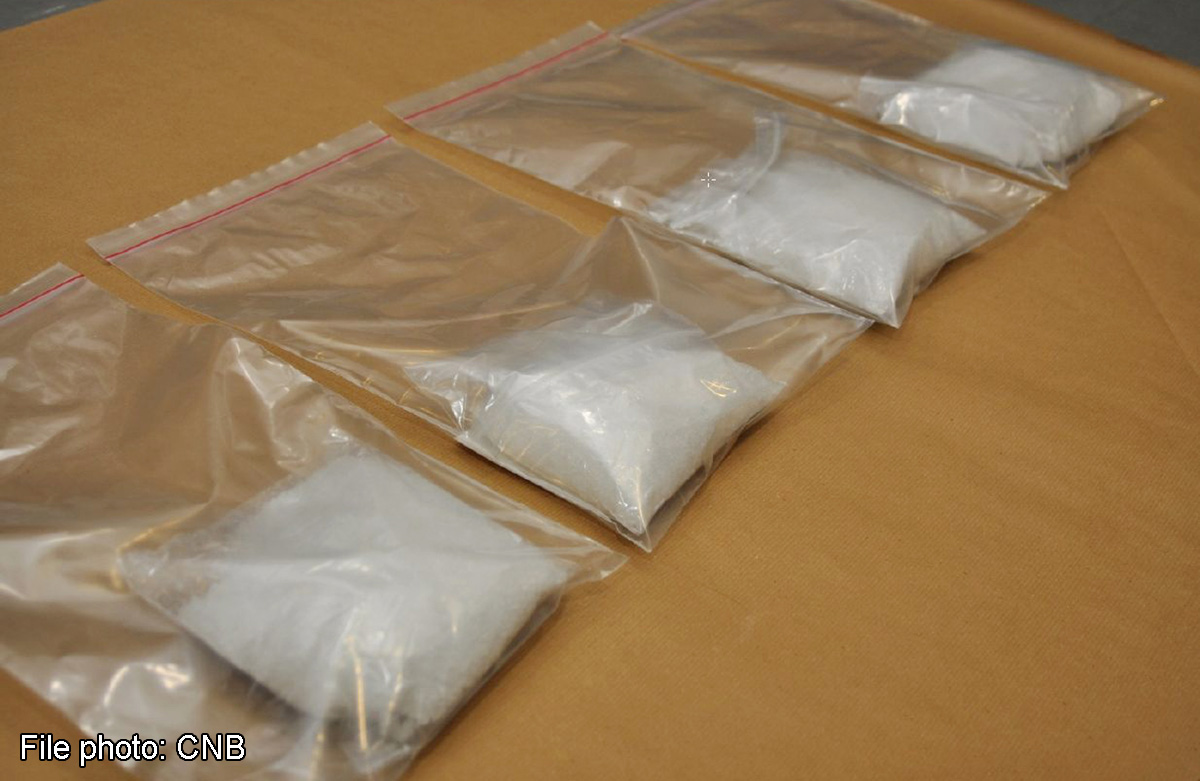 SINGAPORE - Methamphetamine, also known by its street name Ice, is the drug of choice among new abusers here, according to statistics released by the Central Narcotics Bureau (CNB) on Thursday.

Get the full story from The Straits Times.
Here are details of the half-year statistics released by CNB today:
TWO-THIRD OF NEW DRUG ABUSERS ARRESTED IN 1ST HALF OF 2014 WERE BELOW 30 YEARS OLD
Heroin and methamphetamine remain top two most commonly abused drugs
Between January and June 2014, heroin and methamphetamine made up 92 per cent of all drug abusers arrested and 5 per cent of all drug abusers arrested abused cannabis, making it the third most commonly abused drug. This situation was similar to the same period in 2013.
Amongst new abusers, methamphetamine was the most commonly abused drug in the first half of 2014 (67 per cent of the total), followed by heroin (15 per cent) and cannabis (13 per cent). In the same period of 2013, 61 per cent of new drug abusers abused methamphetamine, 23 per cent abused heroin and 10 per cent abused cannabis. 
Two-thirds (67 per cent) of new drug abusers arrested in the first half of 2014 were below the age of 30. This was a two percentage point increase when compared to the first half of 2013.
Compared to the first half of 2013, the first half of 2014 saw an overall decrease in the seizure of drugs. The estimated street value of the total drugs seized amounted to about $4.71 million, a decrease of 50 per cent when compared to the first half of 2013. Seizures of heroin decreased by about 24 per cent, from 35.94kg to 27.46kg.
Seizures of methamphetamine or 'Ice' decreased by about 62 per cent, from 22.49kg to 8.65kg. However, seizures of 'Ice' meant specifically for the local market increased about 10 per cent from 4.82kg to 5.30kg.
Preventive Drug Education (PDE) remains a key approach in the Central Narcotics Bureau's fight against drugs.
To engage youths and the general public on the dangers of drug abuse, CNB continued to deliver anti-drugs talks and held exhibitions to schools for the first half of 2014 to drive the anti-drug message to the masses.
Key outreach efforts included DanceWorks! 2014, an Anti-Drug Abuse Campaign 2014 and the Singapore Games Creation Competition (SGCC) 2014.
Community partnership is also one of CNB's approaches to include the larger community in the fight against drugs. CNB also collaborated with key stakeholders such as the National Council Against Drug Abuse (NCADA), Fei Yue Community Services, Beyond Social Services, Yayasan Mendaki, and 4PM (also known as the Malay Youth Literary Association) to deliver the anti-drug message at these community partners' events.
Senior Minister of State Masagos Zulkifli also commented on CNB's mid-year statistics 2014 in a Ministry of Home Affairs statement released today
The global drug situation remains challenging, with the production of drugs like heroin and opium rebounding to the high levels seen in previous years. Locally, while there has been a decrease in the overall and new drug abusers arrested in the first half of 2014, there is still much work to be done. Globally, New Psychoactive Substances (NPS), which are chemically modified substances that mimic the effects of controlled drugs, are beginning to flood the market. They are touted as safe and legal to use, yet there have already been reports of deaths in the overseas media arising from their use.
On another front, the legalisation of cannabis in some jurisdictions reinforces the impression that these drugs are "less dangerous". These are gross misunderstandings. There is no such thing as a soft drug. One cannot experiment with drugs and not expect to get hooked.
Abusing any type of controlled drugs has long-term implications on the abuser - including to his or her health and mental development especially if the abuser starts taking drugs from young.
It may also lead the abuser to search for more potent highs provided by other drugs. Already, young drug abusers below the age of 30 tend to abuse drugs such as methamphetamine and cannabis, which they wrongly perceived to be less addictive.
Singapore adopts a zero tolerance policy against drugs. CNB will continue its fight against drugs through intensive enforcement efforts, close collaborations with regional and community partners and targeted preventive education. We also urge parents, families and the community to play their part in the fight against drugs. However, the individual is ultimately responsible for his actions, and if he breaks the law, he will have to face the consequences.