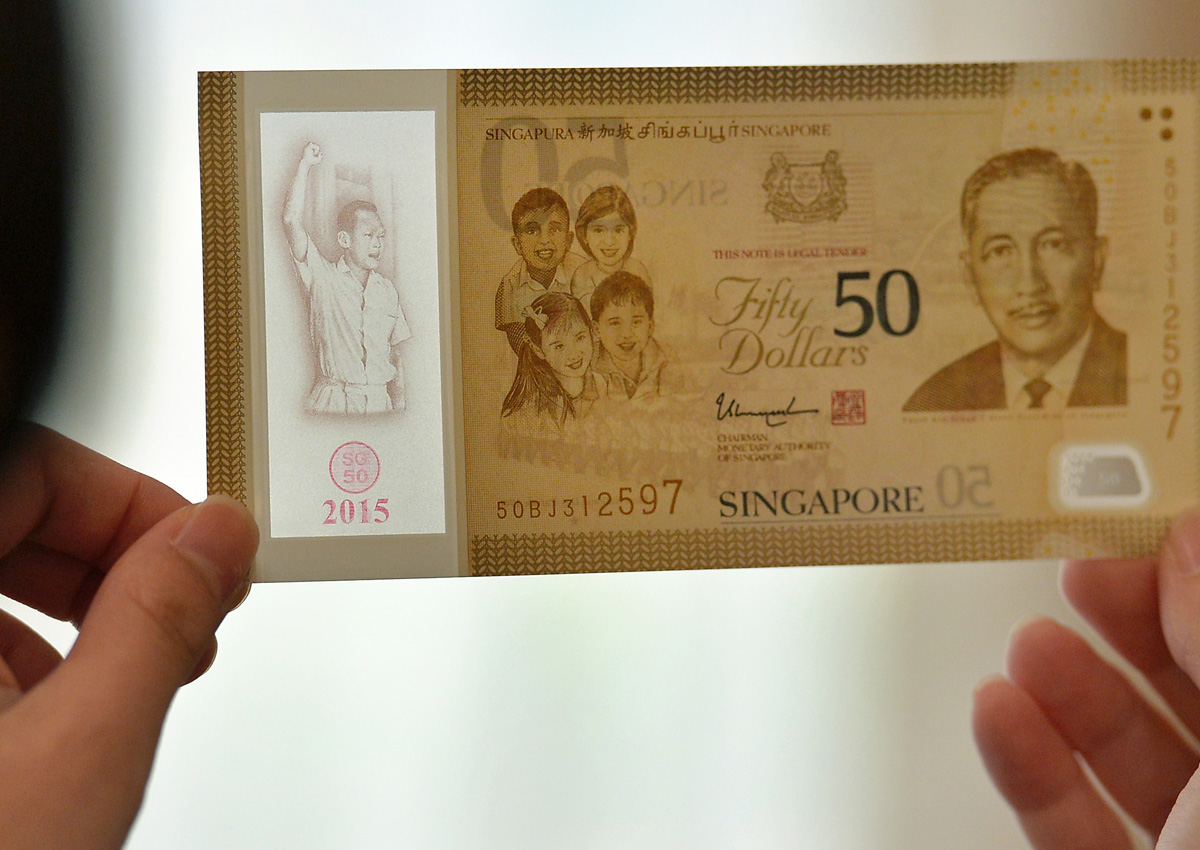 SINGAPORE - Prime Minister Lee Hsien Loong today (Aug 18) unveiled a set of six commemorative currency notes to celebrate SG50. The commemorative notes, issued by the Monetary Authority of Singapore (MAS), comprise a $50 polymer note and five $10 polymer notes.
Like the current series of notes, both the front of the $50 and $10 notes feature the portrait of Mr Yusof Ishak, Singapore's first President. 
But the new bills have security features that are the first of their kind to be used on a currency note, said MAS. For example, the $10 notes have a security stripe that features the year '1965' and switches to '2015' when it is held at a different angle. 
The gold $50 note shows the late Mr Lee Kuan Yew, Singapore's first Prime Minister, shouting the rallying cry of "Merdeka!" 
The back of the note features Singapore's first National Day Parade on Aug 9, 1966. The $50 note highlights Singapore's history, transformation and future, while the gold colour reflects the country's golden jubilee, said MAS.
The five $10 notes have a common front design and varying back designs, reflecting the values and aspirations of multiculturalism, meritocracy, peace and stability, strong families and active citizenry.
This Golden Jubilee year is "a time to reflect on our shared history and sacrifices of our pioneers, to reflect on the values that brought us here and pledge to preserve and uphold these values", said PM Lee, at the launch held at the MAS on Tuesday.
The commemorative notes were designed by four local artists and designers, namely Mr Chua Mia Tee, Mr Eng Siak Loy, Mr Weng Ziyan and Mr Fabian Lim.
The public can exchange the SG50 commemorative notes at face value at branches of 9 major retail banks (DBS Bank/POSB, OCBC, UOB, Bank of China, Citibank, ICBC, Maybank, StandChart, HSBC) from Aug 20 onwards. Each individual is limited to a quota of five sets of notes.
Singaporeans will be given priority to exchange the notes from Aug 20-Sept 30, 2015. All they have to do is to present their identification card at the bank as proof of citizenship. The notes will be made available to non-Singaporeans from Oct 1. 
The public is advised not to rush to obtain the notes. "There will be enough SG50 notes available for exchange," said Dr Andrew Khoo, Deputy Managing Director (Corporate Development).
A total of 20 million pieces of the $50 notes and 75 million pieces of $10 notes - 15 million pieces of each design - are being printed, he added. 
DBS will be extending banking hours till 8pm for two weeks from Aug 20 to facilitate the note exchanges, the bank said in a statement on Tuesday.
maryanns@sph.com.sg