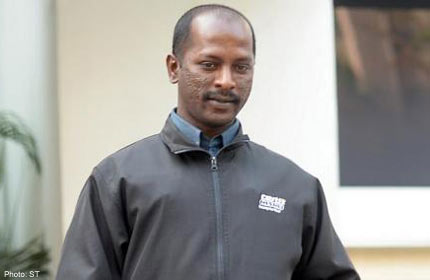 AN AUXILIARY police officer on Monday explained why he did not make any arrests sooner during the Dec 8 riot in Little India.
This, even though a stone thrown by a man in the unruly crowd near Kerbau Road had struck him on the head.
"The crowd at that time was aggressive... It's not easy to enter that crowd and arrest that one man," said Certis Cisco Constable Nathan Chandra Sekaran, who was testifying on Monday before the Committee of Inquiry into the unrest last year.
He told the inquiry on the fourth day of the public hearing that he held back because he "feared that this would provoke the crowd".
State Counsel John Lu, who was presenting the evidence during Monday's inquiry, asked if arresting the man would have stopped the others. Mr Nathan said no.
If he had gone into the crowd to arrest the man, he may have been attacked and have to use his revolver, he said. "It's too risky to go in (because) if I get caught as a single person in that crowd, they may get hold of my revolver. They may use it against us and attack my officers."
The 35-year-old was one of the first emergency responders at the scene to appear before the committee.
A total of 49 Home Team officers and five auxiliary police officers were injured in the fracas.
More than $650,000 worth of government property was also damaged, including 23 emergency response vehicles, five of which were set on fire.
Mr Nathan said the mob he faced that day appeared to be about 1,000-strong, although police estimates placed it at about 400.
Three Indian nationals have since been jailed between 15 and 18 weeks for their role in the unrest, while cases against 22 others are pending in court.
Another 57 foreigners arrested in connection with the incident have since been repatriated, while police advisories were issued to 213 others for their passive and incidental involvement in the riot.
waltsim@sph.com.sg
Get a copy of The Straits Times or go to straitstimes.com for more stories.