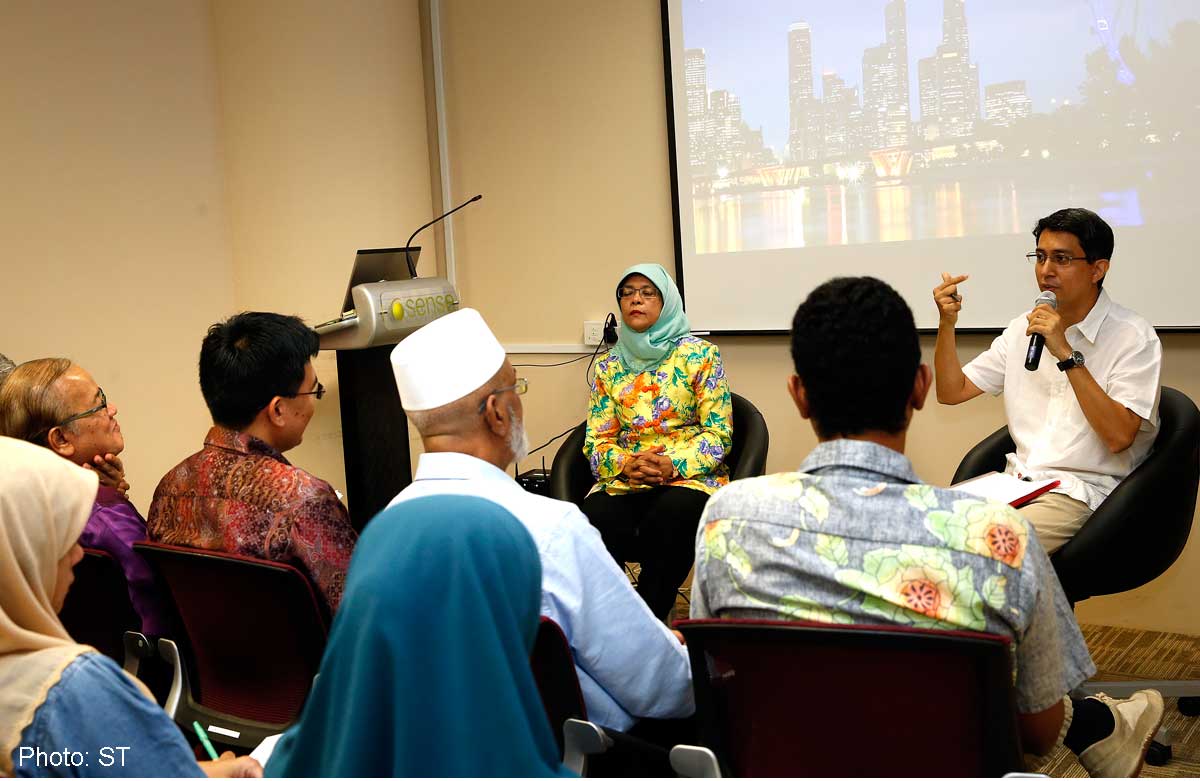 RISING concern over seniors' lack of financial literacy came to the fore at a dialogue between Malay- Muslim community leaders, Parliament Speaker Halimah Yacob and Parliamentary Secretary Muhammad Faishal Ibrahim.
The topic dominated yesterday's two-hour session. The concern stems in part from recently announced policy changes to the Lease Buyback and CPF schemes that pave the way for lump-sum payouts to seniors to help meet their retirement needs.
The 60 leaders of Malay-Muslim organisations who took part in the dialogue expressed concern that these changes would also leave seniors more vulnerable to scams, as well as pressure from family members for loans and to find other uses for their savings.
The participants noted investment plans and get-rich-quick schemes targeted at seniors who had received a cash boost from downsizing or selling their flats, but who lacked financial savvy.
Both Madam Halimah and Dr Faishal agreed there were grounds for concern. They cited cases they had come across.
One involved an old man who had sold his flat at his daughter's suggestion and used some of the money to help her buy a car, but who was forced out of her house and into an old folks' home after they fell out.
Madam Halimah said: "What the Prime Minister said (in his National Day Rally speech) is very true: If it is possible, don't sell your house... Look at the other options - renting out or lease buyback - those are better options."
The participants also lamented that attendance at financial literacy talks was poor, even when the sessions were heavily subsidised or free.
Mr Suhaimi Salleh, president of the Prophet Muhammad's Birthday Memorial Scholarship Fund Board, said Malays make up only 5 per cent of attendees at many such courses, even those held at community clubs in estates with a high proportion of them.
The situation is similar with the Indian-Muslim community, said Mr Raja Mohamad, president of the Singapore Kadayanallur Muslim League, adding that those who do not turn up are often the most vulnerable.
Madam Halimah said the Pioneer Generation Joint Committee, which she chairs, is prepared to organise such financial literacy courses two or three times a year.
She would also pass the feedback received from the community leaders to the Ministry of Finance.
She said the suggestion to enhance financial literacy education for seniors was "very useful" and "obviously comes from the deep concern that there is a need to encourage prudence in the management of their money".
Another issue that came up was health care. Dr Faishal, who is with the Health Ministry, said people must play their part in keeping healthy.
He said he was glad that at a recent Malay wedding he went to, there was salad and plain water offered alongside nasi briyani for more health-conscious guests.
"We should encourage more of that," he said.
yanliang@sph.com.sg

Get a copy of The Straits Times or go to straitstimes.com for more stories.