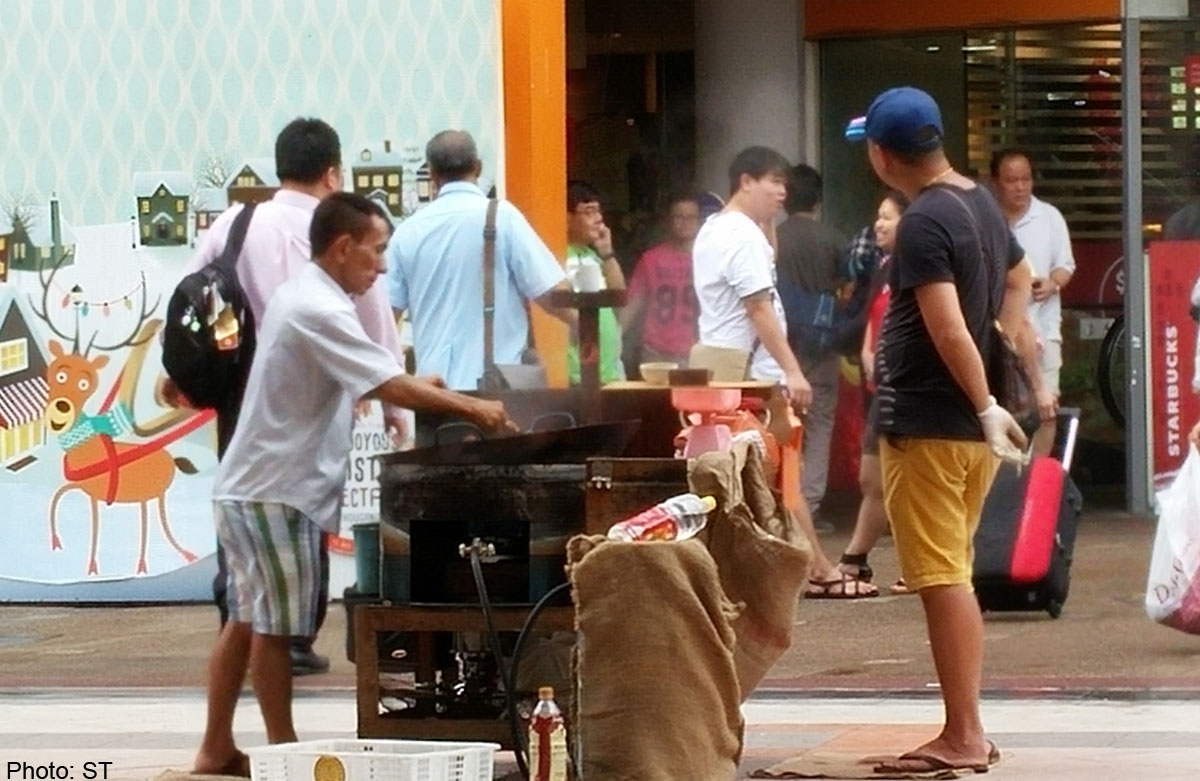 Illegal hawking appears to be on the rise here, with more complaints against unlicensed sellers of snacks from roasted chestnuts to curry puffs.
The National Environment Agency (NEA) received more than 3,300 reports from members of the public about illegal food hawkers from January to November this year, up from 2,600 for the whole of last year.
The agency has also caught more illegal hawkers this year. It apprehended 600 of them this year, up from 550 last year.
Unlicensed hawkers usually set up in busy locations such as outside MRT stations and bus interchanges. Their wares include curry puffs, fruits, roasted chestnuts and otah.
An NEA spokesman advised members of the public not to buy food from illegal hawkers.
"Illegally sold food items such as curry puffs may not have been prepared in accordance with proper hygiene procedures or undergone quality control checks," said the spokesman.
Curry puffs were the most common food items sold, featuring in more than a third of the reports.
Those caught hawking illegally may have their goods and items seized and be fined $300, $400 and $500 for the first, second and third offences respectively.
For the fourth and subsequent offences, they will be prosecuted in court.
A roasted chestnut seller, who wanted to be known only as Mr Low, told The Straits Times in Mandarin that in the past five years, he has had about 10 carts confiscated by the NEA.
When he could not afford the fines, he said, he had to spend a few days in jail. He claimed to have done about a month of jail time in total so far. But he persists in his trade as he feels he has scant job prospects elsewhere.
Said the 50-year-old, who has secondary school education: "What company will hire me at this age, and with my qualifications?
"We know selling this food is against the law, but I don't know what else to do for a living."
This article was first published on December 30, 2014. Get a copy of The Straits Times or go to straitstimes.com for more stories.