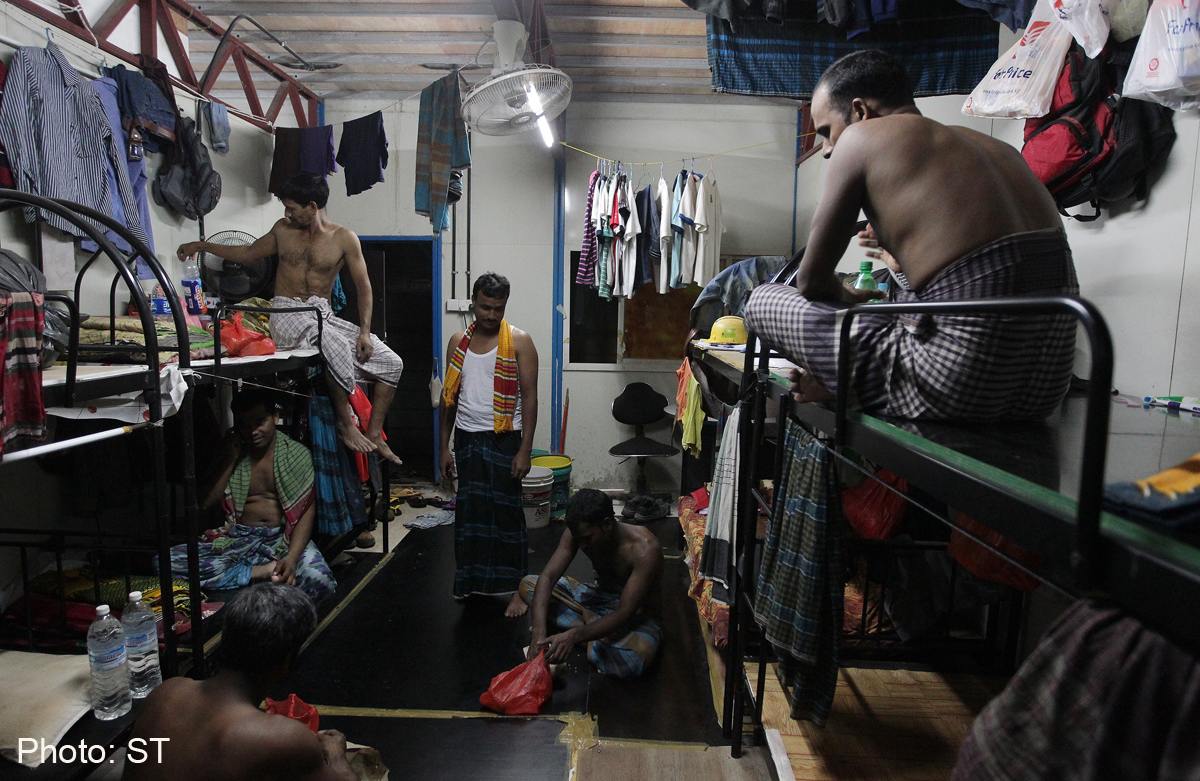 On the corner of Punggol Road is a hut shared by three Indian national construction workers. Made of odd-sized zinc sheets, it appears to have been hastily constructed.
Rust and mould creep on the wall. Beside the tiny kitchen where the men cook curries and rice on an electric stove, is the sleeping area with three mattresses lined back-to-back on the floor. The men shower outside, amid piles of steel rods, using tank water meant for cleaning construction equipment.
It is better than showering in the crowded toilets in the quarters beside their hut, says a worker.
The quarters, located in a Housing Board build-to-order project, is home to around 500 Indian, Chinese and Bangladeshi workers.
Boots, caked with mud and sand, fill the corridors outside. But the rooms are kept neat - toiletries are lined up in rows underneath the beds, and blankets are kept folded.
The men sleep on double-decker beds, eight to a room. But there is a stale odour from the wet clothes that are around their beds.
The men say conditions in their rooms are fine but toilet and shower facilities are unbearable. There are broken urinals and choked toilet bowls, in which waste and snack wrappers float in brackish water. The walls are covered with brown mildew.
One Chinese national worker said it has been at least eight months since the water tub, from where the men scoop water to wash, in the middle of the bathroom has been cleaned.
He says that at around 1am every day, waste from the dorm is flushed into drains outside. "It is so smelly and dirty," he said.
The workers told The Straits Times last week that they did not expect to be living in such conditions in Singapore. But they do not know what else they can do, other then bear with it.
"Things are just as bad here as they are at home. I thought Singapore was better," said one Bangladeshi worker.
An Indian national worker, who has worked on the project site for six months, added: "What the company gives me, I take. Happy or not, I must work or the boss will send me home."
ameltan@sph.com.sg
awcw@sph.com.sg
This article was published on Aug 19 in The Straits Times.
Get a copy of The Straits Times or go to straitstimes.com for more stories.