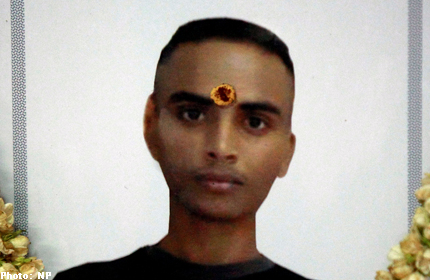 SINGAPORE - No coroner's inquiry will be held to look into the death of Changi Prison inmate Dinesh Raman Chinnaiah.
This, after his family's lawyer and officers from the Attorney-General's Chambers (AGC) met State Coroner Imran Abdul Hamid in his chambers yesterday afternoon.
Lawyer M. Mahendran and two AGC officers including Deputy Public Prosecutor (DPP) Tan Wen Hsien arrived at the Subordinate Courts at 2.30pm.
Dinesh's mother, who wanted to be known only as Madam Selvi, 45, and one of his sisters were also present in court and they sat patiently in the gallery for their lawyer to come out of the chambers.
Both women declined to comment.
Responding to queries from The New Paper, an AGC spokesman replied in an e-mail: "In view of the conclusion of criminal proceedings, the inquiry has been discontinued."
This means that the case is closed as prison officer Lim Kwo Yin, 36, has been convicted and fined $10,000 on Friday for performing a negligent act that led to Dinesh's death.
Mr Louis Joseph from Regent Law told TNP that a state coroner's job is to find out how, when and why a person died.
But the lawyer, who is not involved in the case, stressed that it is not within the coroner's purview to say who should be prosecuted or convicted after causing the death.
Said Mr Joseph: "However, if the AGC has found the cause of death and the person who caused it, then it can direct for a coroner's inquiry to cease."
He added that for this case, Lim has admitted his offence and the matter has been sorted out.
Mr Joseph, who has been in practice for 25 years, said: "Questions like who, how and why the death occurred have already been answered by the prosecution. The prison officer has also pleaded guilty. So there's no need for a coroner's inquiry."
Uncommon proceedings
Another lawyer, Mr Rajan Supramaniam from Hilborne & Co, however, said that the way the case unfolded in the courts was "quite uncommon".
He said that most of the time, cases involving unnatural deaths appear before the state coroner first. The state coroner will then give his findings at the end of the inquiry.
DPP Tan told the court on Friday that Dinesh, 21, kicked a prison warden in his abdomen when he came out of his cell at around 10.45 am on Sept 27, 2010. No one knows why he did that. Prison officers then rushed over to restrain him.
In a statement, the Singapore Prison Service (SPS) described what officers would do in a situation like this. It said three or four officers would restrain the prisoner with wrist and arm locks. One officer would be in charge of safety. This is safer than the traditional method of using weapons such as batons, it said.
In Dinesh's case, pepper spray was used while officers tried to restrain him. After he was subdued, he was moved to a Disciplinary Housing Unit to isolate him. There, he was put in a prone position before officers left the cell.
When Lim, the supervising officer, went back to check on him minutes later, he noticed the inmate was not moving and raised the alarm.
Prison medical staff performed cardiopulmonary resuscitation, but he did not respond. He was later sent to Changi General Hospital, where he was pronounced dead at 12.45pm.
SPS said that the prone position he was in made it difficult for him to breathe and he died from positional asphyxiation.
SPS said that following the incident, it conducted an internal review of the incident. This was followed by a Committee of Inquiry ordered by the Ministry of Home Affairs in March this year.
The committee, which completed its findings last month, recommended SPS improve its systems when dealing with the risk of positional asphyxia, as well as emergency medical response to inmates in distress. It also recommended that prison officers be kept up-to-date in first aid skills and that proficiency training be conducted.

Get The New Paper for more stories.