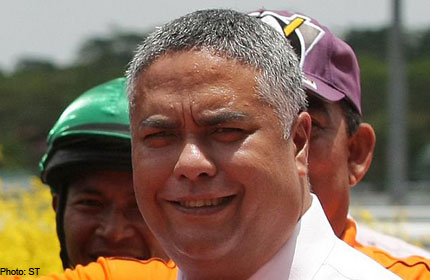 A district court has ordered four racehorses to be seized and sold to settle a creditor's demand, in what is believed to be the first such case here.
The court bailiff also authorised specialist horse auctioneer Wade Burridge from an Australian-linked firm to conduct the sale, which was announced last week.
Court-ordered seizures of debtors' properties to settle creditors' claims have in the past included jewellery, cars, liquor and an assortment of other goods.
The thoroughbred racehorses, named Mr Ikhlas, Sombrani, Warisan and Salsabila, were owned by three women related to each other.
Three of the horses aged between three and seven years old were originally acquired from Australia. Warisan came from Florida in the United States.
Mr Ikhlas, a seven-year-old gelding, has made three unplaced starts in Singapore so far and has won more than $120,000 in prize money previously in Australia, according to online records.
Sources said it is the practice for some de facto racehorse owners to register their wives or relatives as the legal horse owners to avoid the publicity or to get around insolvency issues, among other reasons.
The trio, Madam Siti Zuriana Mohamed Yusoff, her mother Madam Azizah Raihan, and Madam Khairani Abdul Rashid - who is Madam Siti's sister-in-law - had assigned the four horses to be managed and trained by O'Hara Racing Stables in Kranji in late 2011.
But soon after, they defaulted on the bills for training for about six months, incurring $56,000 in debts.
A cheque issued by Madam Khairani issued in June last year bounced, as did two earlier cheques, which triggered the court suit through lawyer Raymond Wong, who represents the stables.
Thoroughbred trainer John O'Hara, 49, who owns the stables which manage and train about 50 horses, said he took the case to court last month as "a last resort".
The veteran trainer, who started off as a stablehand in 1985, said the case could have been avoided if the horse owners had earlier agreed to sell the horses and sort out the debts.
The defendants, who were believed to be in the food catering business, did not show up in court to contest the case.
But the sale of the racehorses through the auction due next week may not resolve the matter.
Mr O'Hara said he had to continue to look after and train the animals in his stables even after the July 2012 cut-off date for settling the debts had lapsed.
He spent about $2,500 on each horse per month.
In total, the amount he has spent on the horses has exceeded $200,000, and still counting.
Mr O'Hara intends to pursue a full settlement of the sums in court.
vijayan@sph.com.sg

Get a copy of The Straits Times or go to straitstimes.com for more stories.