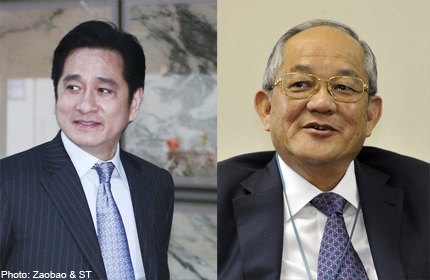 SINGAPORE - After a bitter five-year fight, a court has ruled that Indonesian billionaire Low Tuck Kwong is entitled to damages for being defamed by his former friend, Singapore businessman Sukamto Sia.
The three-judge Court of Appeal, reversing a High Court decision, found that the statements made by Mr Sia, 54, in three letters, alleging that Mr Low, 65, had reneged on a business arrangement, were false and malicious.
The amount of damages will be assessed at a later hearing. Mr Low had claimed 2.175 trillion rupiah, or S$334 million based on the exchange rate in August 2008, in special damages.
Mr Low is the president commissioner and controlling shareholder of coal mining company Bayan Resources, listed on the Indonesian Stock Exchange (IDX). He is ranked Indonesia's ninth wealthiest person in this year's Forbes Billionaires list.
Mr Low and Mr Sia were close friends until they fell out in 1997.
In July 2008, in the run-up to Bayan's initial public offering (IPO), Mr Sia sent out letters claiming that in 1995, he gave $3 million to Mr Low to invest in a coal business.
Mr Sia, claiming that he was promised a half-share in the business, threatened legal action unless he was given a 50 per cent stake. The first two letters were sent to Mr Low, Bayan and their lawyers. The third was sent to the Indonesian capital market regulator, the IDX, and various parties involved in the IPO process. The contents of the letters were republished, including in Indonesian newspapers and in Bayan's final prospectus.
The IPO was eventually launched in August 2008, four days later than planned and without the sale of Mr Low's shares.
Mr Low, represented by Senior Counsel Davinder Singh, sued Mr Sia for defamation and malicious falsehood.
In November last year, Justice Philip Pillai dismissed Mr Low's suit. The judge said he had not proved falsehood and malice and found that Mr Sia had made out a defence of qualified privilege for defamation.
Mr Low appealed. Last Friday, the Court of Appeal, in a 78-page written judgment, concluded that he had proved Mr Sia's statements were false and malicious. It said that Mr Sia's inconsistent explanations for the $3 million he purportedly gave Mr Low suggested there was no such investment.
In two earlier lawsuits involving his company, Dynasty Line, Mr Sia said the money he owed Mr Low and others should be set off against the $3 million he advanced to Mr Low in 1995.
The court said it was hard to believe Mr Sia's account of the investment and difficult to accept that he did nothing for 13 years to get back his money.
selinal@sph.com.sg

Get a copy of The Straits Times or go to straitstimes.com for more stories.