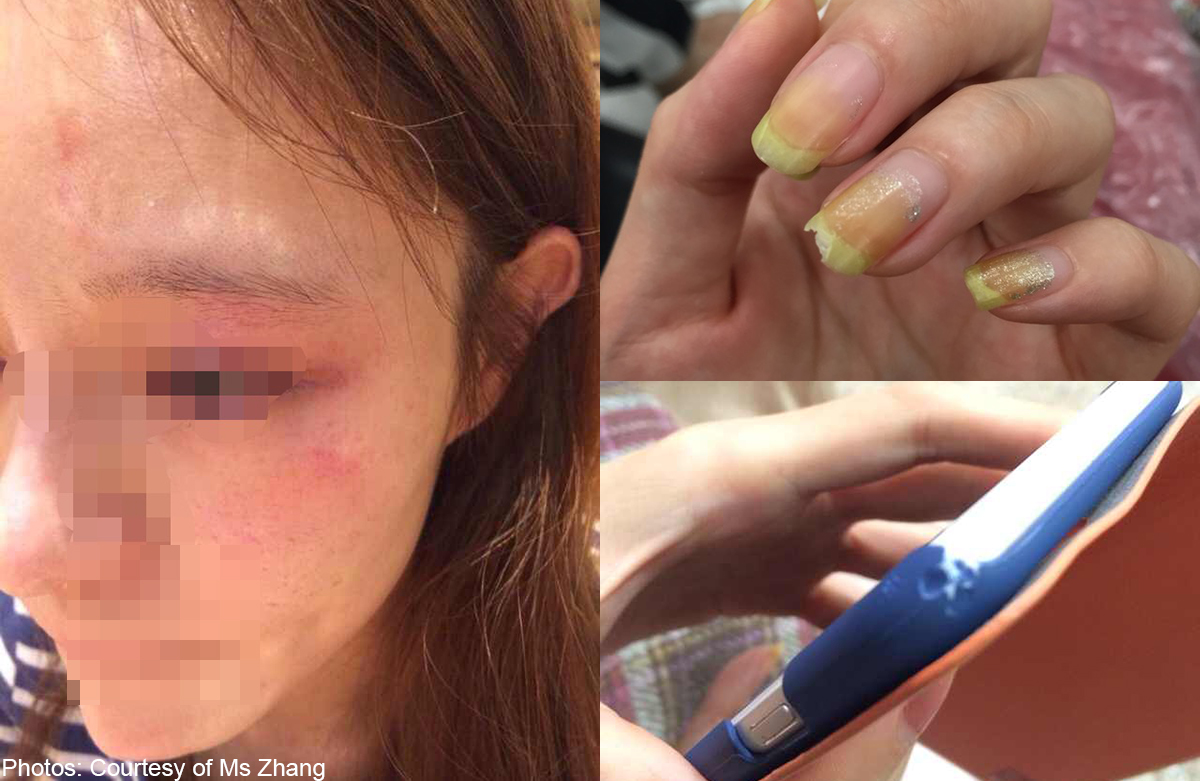 SINGAPORE - A customer at a nail salon located at Selegie Road has claimed that she was assaulted by an employee there.
Ms Zhang, 27, who works in the finance industry, told AsiaOne that one of the shop's employees had allegedly slapped her in the face and also used an umbrella to hit her after she was told that "they didn't welcome customers like [her]".
She said that she had bought a $39 Groupon voucher for a package at the nail salon and went down last Thursday to book an appointment for 7pm on Tuesday. But when she reached the salon at 5.40pm on the appointment day, the employee, a woman whom Ms Zhang described as aged between 35 and 45, told her their records did not show that she was scheduled for an appointment.
Ms Zhang said: "Since I already paid for the package, I decided to wait in the shop for whenever the staff were free. There was only one customer at the time; I figured I could be next after she was done.
"But the employee pointed her finger to my head and told me to leave and that they didn't welcome customers like me.
"When I tried to take a photo of the shop with my mobile phone, the employee walked over and snatched it from me.
"She then slapped me across my left cheek so hard that it became red and swollen, and threw my iPhone 6 against the wall.
"When I went to pick up my phone, the employee took the umbrella that had been hanging on my arm and used it to hit me."
According to Ms Zhang, the employee called the security guard to the shop, who then led her out into his office to call the police.
A police report was lodged and according to the report, the incident has been established as a case of voluntarily causing hurt. Ms Zhang was also advised to seek her own legal recourse.
However, the nail salon employee has denied hitting Ms Zhang with an umbrella, according to a report in Lianhe Wanbao. She claims that it was Ms Zhang who had hit her instead.
She showed the Chinese evening daily an eight-second video she took of Ms Zhang shouting. However, her words were unclear. The video also did not show either party getting hit, Lianhe Wanbao said.
Ms Zhang has since reported the incident to the Consumers Association of Singapore (Case) and Groupon. She told Lianhe Wanbao that Groupon is investigating the incident.
Case has confirmed that a complaint was lodged by Ms Zhang today.
"Our officers will assess her dispute and whether we can take up her case," said Mr Seah Seng Choon, executive director at Case.
When AsiaOne visited the shop today, two staff members were spotted in the nail salon. They declined to be interviewed, stating that "they are very busy". A staff from an eatery located on the upper level told AsiaOne that they saw police officers talking to Ms Zhang on the day of the incident.
It is understood that the owner of the nail salon is a man known as Mr Song. He told Lianhe Wanbao that he was not in the shop at the time of the incident, but his staff told him that there was a customer who started shouting as soon as she entered the shop.
This is the latest incident relating to complaints about errant retailers.
The New Paper reported on Monday that a mobile phone shop in People's Park Complex will not be renewing its lease when it ends this month.
S Team has been on Case's consumer alert list for the past year. Four complaints were lodged against it from August to October.
Tele Infinity and Mobile Alliance, also on Case's list with seven and five complaints respectively from August to October, were also closed, The New Paper said.
Mobile Air, a shop in electronics mall Sim Lim Square, recently changed hands from Mr Jover Chew to Mr Ricky Lee, who will be renaming the shop.
The transfer of ownership came amid reports of negative customer experiences at the shop in mainstream media.
A Vietnamese tourist was seen kneeling and begging tearfully for a refund after buying an iPhone 6 there. The incident emerged less than a week after reports of Mr Chew refunding a customer $1,010 in coins put Mobile Air in the spotlight.
huizhen@sph.com.sg
Additional reporting by Jason Soh