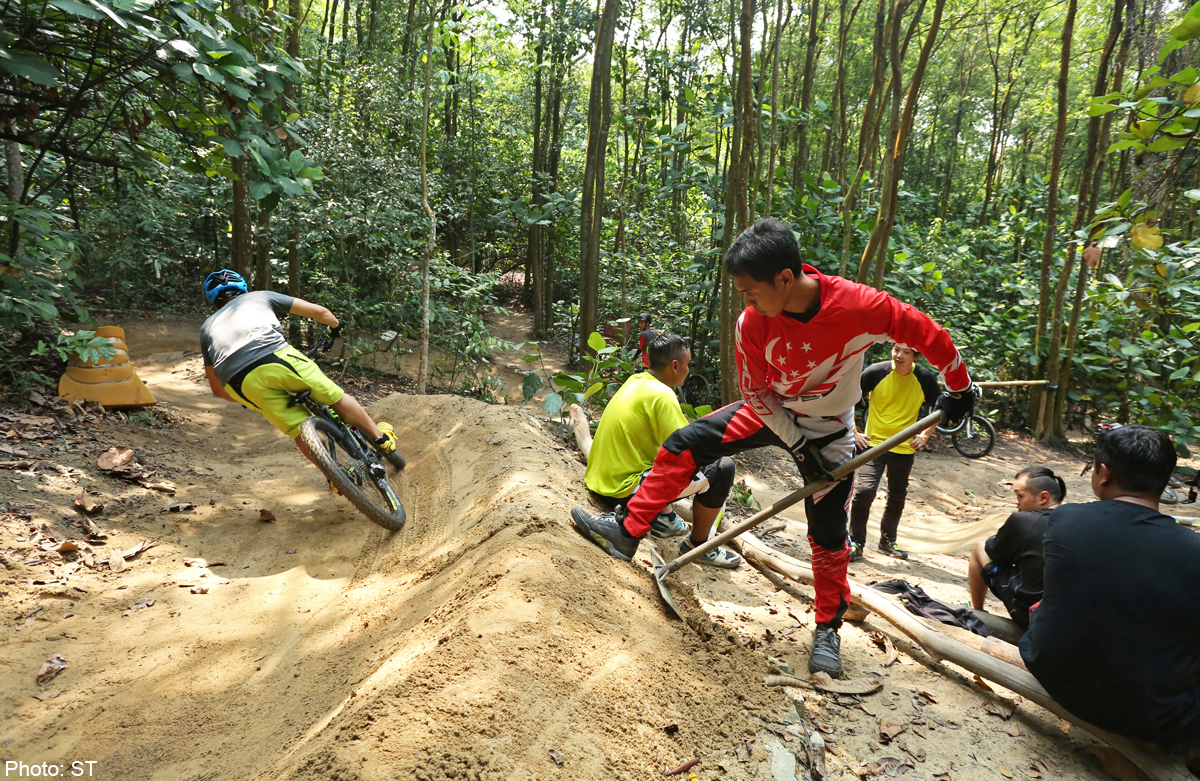 SINGAPORE - A cycling enthusiast has come up with a bold plan to build a new community cycling track here.
Former national downhill mountain biker Muhammad Herman is looking for a suitable site to build a "pump track", a small looping trail with obstacles like rollers and berms.
"It will be a free communal space where riders of all ages can come and have fun and a good workout with their bikes," he said. "I also want to put in a community garden for uncles and aunties."
The 40-year-old, who is a police officer, has submitted proposals to three community centres (CCs) - Tampines Central, Clementi and Bukit Batok East. However, he is open to working with anyone.
All he needs is about $5,000, a space measuring about 30m by 30m, five truckloads of dirt and six months to build the track.
Mr Herman said most of the money would go towards renting a Bobcat earthmover, while friends and volunteers from the cycling community have agreed to give up their time to build it.
"It's not big, it's like a street football court or basketball court," he said."I'm looking for under-utilised spaces like those below flyovers."
Pump tracks can accommodate various types of bikes but are mostly used by BMX riders, who ride around the track by "pumping" their bikes up and down the humps to conserve momentum.
So far, he has been rejected by Clementi CC but is waiting to hear from Tampines Central CC while working with Bukit Batok East CC.
He plans to approach other authorities if his efforts are unsuccessful, and he has also launched an online petition to garner support for the project.
He cut his teeth building trails in Batam and Johor Baru more than a decade ago. He also had a hand in a small pump track under the Gali Batu flyover in Bukit Panjang.
"The most important thing now is to work with the authorities so they can take up a Temporary Occupational Lease for the track and assure the community of the space," said Mr Herman.
Cyclists are gearing up to support him. "The Gali Batu pump track garnered a lot of support from cyclists of all ages," said Mr Faroz Marzoki, 29, who helps Mr Herman maintain mountain bike trails.
Mr Herman's plan comes just a month after the Tampines Bike Park, with Singapore's only BMX race track, closed to make way for public housing.
A replacement BMX track is supposed to be ready before the year end, with Sport Singapore saying details will be made available later.
"The Tampines park had a mountain bike trail and a BMX race track. I cannot replace that," Mr Herman admitted. "A pump track is more for fun, but it can also be raced on."
Currently, BMX riders must travel as far as Malacca if they want to use a proper track.
dansonc@sph.com.sg

This article was first published on October 24, 2014.
Get a copy of The Straits Times or go to straitstimes.com for more stories.