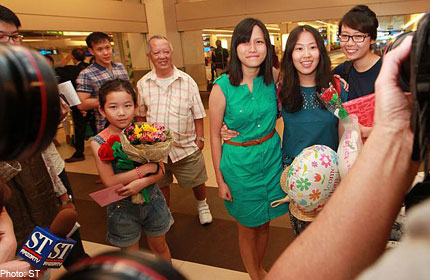 When Typhoon Haiyan hit Tacloban City last Friday, Ms Vanessa Chong was in her host family's wooden house in Bliss, a village 25 minutes from the Tacloban Airport.
She scrambled to pack her passport, money and her MacBook Pro in her backpack before jumping onto the kitchen table with 10 others in the house as torrential rains quickly flooded the interior.
"We just stood there for hours on that table, fearfully watching the water rise till it was above my knees," recalled Ms Chong.
She and two other Singaporean students, Ms Eileen Heng and Ms Alyssa Chee, all 23 and nutrition and dietetics students of Flinders University in Australia, were doing volunteer work in Tacloban on a school placement.
On Tuesday evening, the three had a teary reunion with more than 50 friends and family members who showed up at Changi Airport to welcome them home.
Ms Heng and Ms Chee were with another host family and ran to a neighbour's two-storey concrete house to escape the flood. But howling winds made the walls and roof shudder ominously.
"It seemed like the roof was either going to fly off or cave in on us," said Ms Heng. "I thought, 'This might be the end, something is going to fall and hit my head.'"
All three emerged from the typhoon with only a few scratches, and were reunited at a neighbour's house by the end of the day.
But the storm's departure only marked the beginning of what would become three days of agonising uncertainty with no electricity, limited water, a dwindling supply of food and no way of communicating with the outside world.
The men in their host families were sent out to loot, a task deemed "too dangerous for girls".
Food and water from ransacked malls were rationed - only two mouthfuls each to drink and a plate of some rice, fish and chicken to share among the three each day.
Fearing dehydration, they limited their movements and stayed indoors as much as possible, spending the 12 hours of daylight talking and helping with cleaning before night fell and the city turned pitch black, save for a few lighted candles.
They kept a constant watch out the window, trying to spot passers-by, and handed out slips of paper scribbled with their names and families' contact information in Singapore to everyone they met, hoping to find a connection to someone back home.
On Sunday night, they were told by a volunteer that they could be driven to the airport the next day for a flight on a US military aircraft to Manila.
There, they managed to get on a flight back to Singapore on Tuesday afternoon. "We are just thankful to the many people who helped us and are glad to be back," said a relieved Ms Chee.
"But there are still many people in Tacloban who really need all the help that they can get. The three of us were really blessed because we came out with just some scratches, but many people have died, they have drowned, they've lost their families, they've lost everything."
hpeishan@sph.com.sg

Get a copy of The Straits Times or go to straitstimes.com for more stories.