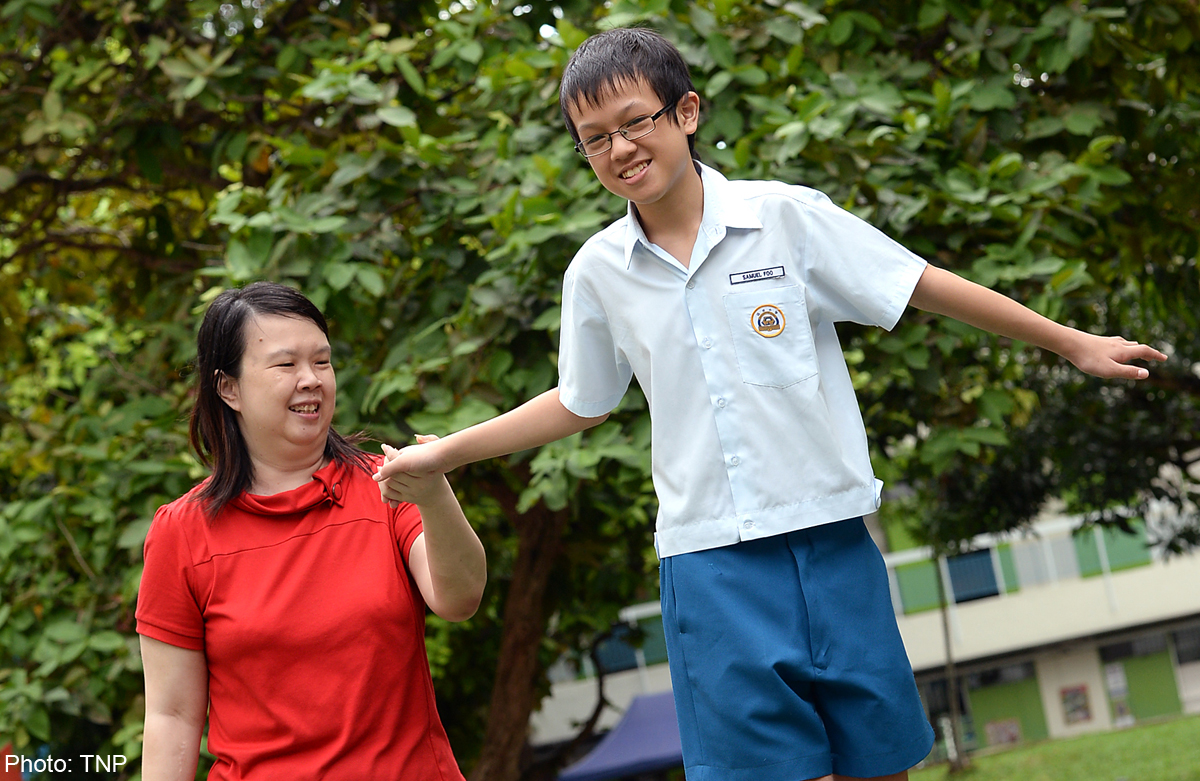 Thin and bespectacled Samuel Foo shops at the supermarket like an experienced housewife.
Standing on tiptoes, the 148cm-tall Primary 6 pupil compares the prices carefully and picks the cheapest items.
Unlike other children his age, the 12-year-old skips the snacks and sweets section. "I don't usually eat snacks. Besides, they are unhealthy," he said.
Shopping for groceries for his family is part of his responsibilities.
Samuel had to grow up quickly after his divorced mother had a stroke three years ago. His 82-year-old grandfather, who is suffering from the onset of dementia, lives with them in a four-room flat in Bedok.
Yesterday, he was accompanied by his mother, Madam Seryne Tong, 42, who is unemployed, to collect his Primary School Leaving Examination (PSLE) results.
Samuel, who is head prefect of Damai Primary School and one of its top scorers, said he was a little disappointed with his results.
While declining to reveal his score, he said shyly: "It's between two and 12 marks below my expectations."
But he still qualifies for the school of his choice.
"I'm excited about secondary school," he said.
His mother, a former primary school teacher, was very pleased with his results.
SELF-MOTIVATED
Madam Tong said: "He sets very high expectations of himself. From Primary 1, I never had to push him to study."
"I wish he would play and go out with his friends more. He was always surrounded by piles of assessment books," she added with a laugh.
From a young age, Samuel has been running errands for his mother.
He would help by buying food from a nearby coffee shop, and it is now his daily chore after school.
The family had to keep a closer watch on their expenses after Madam Tong stopped working because of her health.
Samuel said: "I will spend $2 on green leafy vegetables and another $3 on meat. Usually, I will choose soya sauce chicken or sweet and sour pork."
He also shops for fruits at a provision shop near his home. He usually buys bananas and occasionally, a watermelon. When asked if he would prefer other fruits sometimes, he shrugged.
"Bananas are soft enough for my grandfather to chew," he explained.
Samuel's form teacher, Ms Janice Tor, who taught him mathematics and science, called him a "rare gem".
BRAVE BOY
"He is always thinking of others and is a brave boy who took it upon himself to take care of his family," she said.
"There was no sign that he was facing difficulty, and he was always helping his classmates when he noticed that they were unhappy.
"In fact, we didn't know about his situation at home at first and found out by chance when he fell sick in Primary 5."
When asked why he did not tell anyone, Samuel said softly: "They have their own lives and I have my own."
Madam Tong said she went through depression after becoming jobless because of her illness and was worried about the family finances.
But she is thankful that her mature boy has been a pillar of support.
"He is my motivation to pull through this difficult time.
"Maybe it's because he's so close to his grandfather, Samuel acts like an old man sometimes," she said with a laugh.
linheng@sph.com.sg

This article was first published on Nov 22, 2014.
Get The New Paper for more stories.