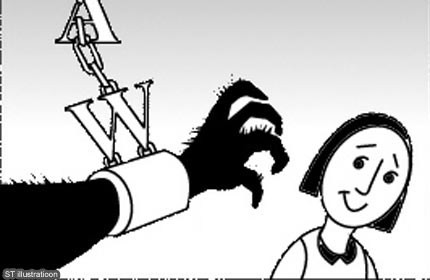 In his second day on the witness stand, serial rapist Azuar Ahamad, 44, revealed the extent of his lies to the four victims.
To each one, he had a different persona: a property-owning Indonesian, an Indonesian Chinese man, a dental surgeon who was leaving to learn to be a cosmetic surgeon, and even a student going to do his master's in the United States.
He even took on two personas to communicate with his second victim, a then 32-year-old bank officer. He had initially got to know her as Denny, but he later created another identity, Shawn, so she would think she was talking to two different men.
When asked by Justice Chan Seng Onn why he did that, Azuar said it was to make sure the woman "wasn't seeing another person".
"So there are double standards? For you (to see more than one person at once) is OK, but not for the women?" Justice Chan said, to which Azuar nodded and softly said "yes".
On Wednesday, he had revealed that he dated up to five women at once, getting to know them through a Facebook application called SpeedDate, and communicating with them over MSN Messenger.
Known as the date rapist, Azuar is accused of drugging women he took out on dates before sexually violating them. He had earlier pleaded guilty to rape, but denies spiking their drinks.
LIED
Towards the end of his cross-examination on Thursday by Deputy Public Prosecutor (DPP) Andrew Tan, Azuar also admitted that he had even lied to the psychiatrists who examined him but did not go to the specifics of what he lied about.
It was previously revealed that he had also lied to general practitioners just to get sleeping pills to feed his addiction.
"Essentially you have lied to every single witness who you have interacted with, is that correct?" asked DPP Tan.
"Yes," Azuar replied and went on to admit that he had a habit of lying to achieve his desires.
Throughout most of yesterday's hearing, he kept to one-word answers, occasionally asking DPP Tan to repeat his questions.
Azuar also admitted to taking advantage of the women in hotel rooms after they had passed out, both sexually violating them and making video recordings of the process.
Some, he said, had even responded to his actions.
But the women all reported waking up the next morning with no recollection of what happened the previous night after they had drunk an alcoholic shot Azuar bought them.
They contacted him and he would tell them a similar story: that they had passed out after getting drunk, and that Azuar had to send them home.
It was only when the police showed them footage from Azuar's mobile phone that they knew they had been raped.
The special hearing came to an end yesterday and both sides will present their submissions to the judge, before he delivers his findings and Azuar's sentence.
ABOUT THE CASE
Azuar Ahamad pleaded guilty to raping three women and sexually assaulting a fourth in 2009, and is now on trial for allegedly drugging his victims.
The 44-year-old got to know the women through the SpeedDate application on Facebook and met them for drinks at pubs.
All four victims reported blacking out after consuming a drink he had bought them. And they could not remember anything until they came to the next morning.
It was revealed from his smartphone videos that Azuar had raped or sexually violated the women and recorded the crimes.
He pleaded guilty to rape and sexual assault in August 2012, but denied drugging the women with sedatives. Instead, he claimed that they drank themselves into a stupor.
There was a trial-within-a-trial in which the prosecution sought to prove that Azuar had spiked the women's drinks. It ended yesterday.
Justice Chan Seng Onn will deliver his findings of the special hearing at a later date before sentencing Azuar. Previously, the prosecution had asked for a 45-year jail term, one of the longest the State has sought.
lawsm@sph.com.sg

Get The New Paper for more stories.