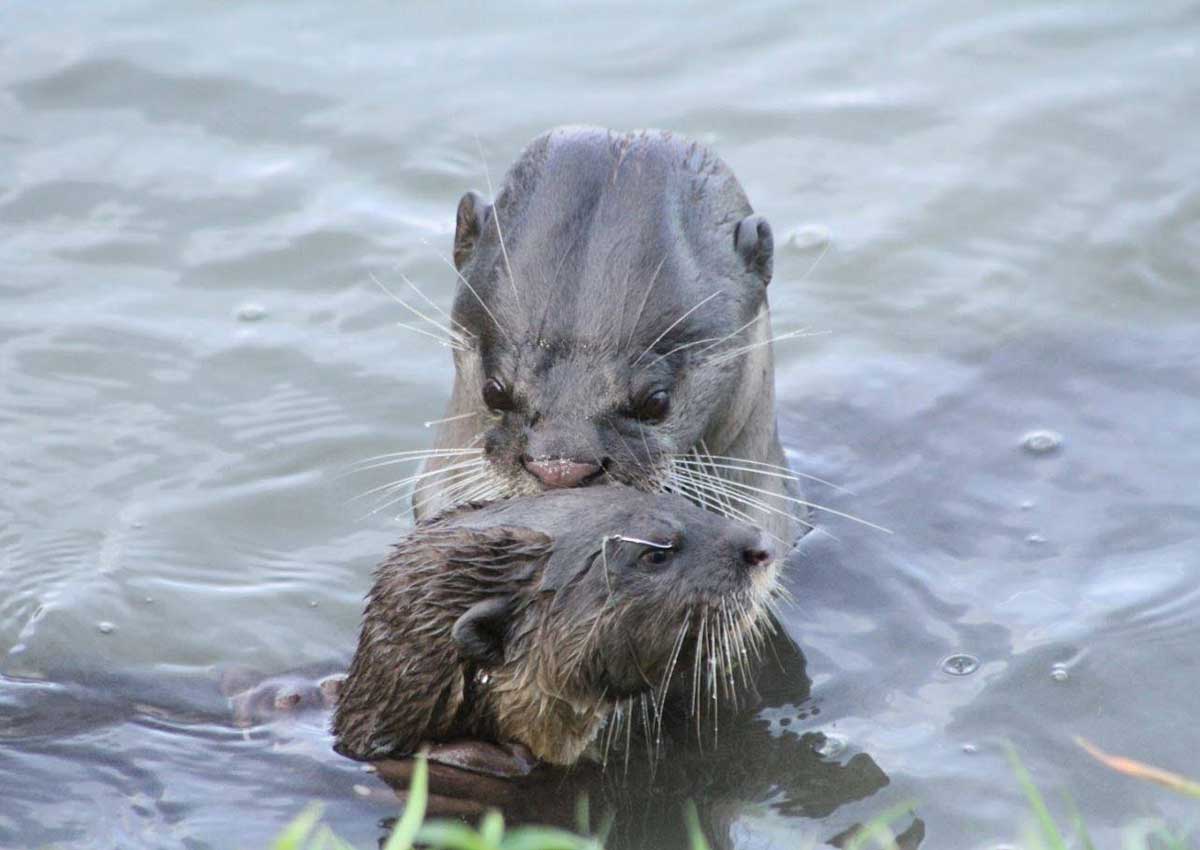 IT IS 6.30am and I approach - as quietly as I can - a family of 10 otters frolicking on the grass by the Helix bridge in Marina Bay.
Beside them sit otter watchers Nick Soo, better known by his online moniker Fast Snail, and Yane Kang, whose photos of a pup injured by a fishing hook hit the news early in April.
Mr Soo, a 34-year-old engineer, is taking videos of the family, known as the Bishan 10 as the parent otters were first sighted in Bishan-Ang Mo Kio park.
It is a Saturday and My Paper has taken up an invite to join an informal group of about 10 to 20 otter watchers.
"Bring a bicycle, or wear running shoes," Mr Soo reminds me in a text message the night before.
I learn how valuable a bicycle is after walking with Ms Kang for half an hour from the Singapore Flyer to Gardens by the Bay, hoping to catch sight of the creatures.
We are foiled when Mr Soo tells us that the otters have turned tail and swum back to the other side of the Flyer.
Throughout the morning, we are joined by others, some of whom are notified of the otter locations shared in a WhatsApp chat group.
The group is as motley as they come, including an IT engineer, a university lecturer, an environmental engineer and one who works in financial services.
Their ages range from 30 to 60.
Asked about the diversity of people, Jeffery Teo, 44, who has followed otters for about four years, laughs and says: "Background doesn't matter. In the eyes of the otters, we are all equal."
We watch them catch and eat fish, play, sunbathe and clean themselves on leaves.
They come out to catch fish in the morning from 7am to 9am and in the evening from 5pm to 7pm, returning to their holts, or nests, to sleep when the sun is high, says Ms Kang.
The watchers usually find the otters based on where they were last spotted the previous night, often by fellow watchers.
It is best to spot an otter by 6am, which is about the time it wakes up, says Mr Soo. If you miss the creatures at their last-sighted spot, chances are, it will be very difficult to find them again.
Three otter watchers tell me that they manage to find the otters six out of 10 times that they try.
Some, like Ms Kang, seek the mammals daily before work, while others do so only on weekends.
Most go on foot but Mr Soo cycles from his home in Bishan, which was where he spotted his first otters in May last year.
Asked why they choose to follow the otters, most of the watchers laugh and say "because they are cute".
The mammals are very entertaining, chittering to one another, occasionally squabbling over a catch of fish.
Whenever they come on land, joggers and cyclists pause and whip out their smartphones to take a photo or video.
Dragon boaters and kayakers on the Kallang river also take five to admire the creatures playing in the water.
At 10am, a tour boat stops its engine for tourists to watch the otters, which swim up to the boat curiously.
The Bishan 10 are the friendliest of the bunch, the otter enthusiasts tell me.
There are at least 50 otters in Singapore, with families scattered in places such as Marina Bay, Changi, Kallang and Pasir Ris.
With the increasing spotlight on the otters, plans must be made to study how to better co-exist with wildlife, says National University of Singapore anthropology lecturer Lai Ah Eng, 60, who has followed the otters for about a year.
Throughout the morning, we spot two illegal anglers who have their rods in the water near the otters. The otter watchers tell me that the Marina Bay area already has fewer of such anglers.
"We can co-exist with more wildlife if we think out of the usual frame," says Dr Lai.
"We are privileged that we live in a small city state but have this wildlife. We could do a lot more in terms of public awareness, conservation and protection, whether it's wild pigs or monkeys or, now, otters."
lydialam@sph.com.sg

Get MyPaper for more stories.