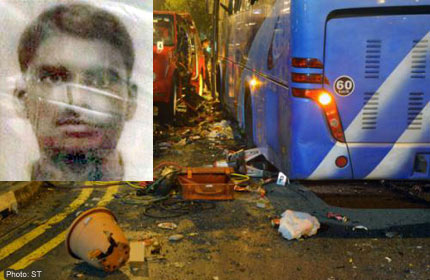 WALKING unsteadily, his left hand clutching an umbrella, construction worker Sakthivel Kumaravelu spotted the bus he had just been ejected from, and decided to give chase. That decision, made in a state of inebriation, would cost him his life less than a minute later.
On Wednesday, video footage from the bus as well as autopsy and toxicology reports painted a clear picture of the final moments of the 33-year-old Indian national's life.
A 30-second clip showed the bus moving along Tekka Lane at about 5kmh, when Mr Sakthivel entered the frame. He noticed that it was the bus he was asked to alight from, and he followed alongside it.
The man appeared to be "walking in an unsteady manner" and "meandering" along a straight path, said
Dr Michael Tay, an accident reconstruction expert who gave his testimony to the Committee of Inquiry yesterday.
The clip went on to show that as the bus sped up, Mr Sakthivel broke into a run but fell behind. He caught up, and was seen tapping the bus with his right palm as the bus turned into Race Course Road.
But with his palm still on the bus, he lost his footing and fell forward. Moments later, he was run over by the left front wheel of the turning bus.
Besides a crushed voice box, multiple rib fractures and a ruptured lung, Mr Sakthivel suffered a skull fracture, with most of the brain matter spilt after the accident.
Describing these injuries on Wednesday, Dr Marian Wang, the forensic pathologist who carried out the autopsy on Mr Sakthivel's body, said that death was instantaneous.
When asked by the committee's chairman G. Pannir Selvam if Mr Sakthivel could have cried out for help immediately after the accident, she replied: "No... because the injuries would have been immediately fatal. The brain is no longer there, so there is no nervous stimulation."


A toxicology report tendered to the court also showed that Mr Sakthivel had a blood alcohol level of 2.17, almost three times the legal limit for driving.
Asked by Mr Selvam to extrapolate how much beer he could have consumed on the night of the accident, Dr Wang said the amount could have been about 2 litres of beer at 4.5 per cent alcohol level - although she also stressed that this was a theoretical and possibly inaccurate figure.
But she noted in her report that the level of ethanol in Mr Sakthivel's body would have resulted in moderate to severe intoxication in an average individual.
A moderate level of intoxication could result in loss of balance, inability to walk in a straight line, confusion and delayed reaction time, among other effects, she explained.
Dr Tay added that besides the alcohol in his system, Mr Sakthivel likely fell because of a "combination of factors" that ranged from the wet ground from an earlier downpour to the fact that both his arms were not free and he could not swing either of them.
That his right hand was on a moving and turning bus meant he "would have to match his movement and speed equally to that of the bus", noted Dr Tay, who believed that this "complicated his movement".
It was therefore likely that Mr Sakthivel could have misjudged speed and distance and engaged in "mistaken behaviour" given his level of intoxication, Dr Wang testified.

Get a copy of The Straits Times or go to straitstimes.com for more stories.