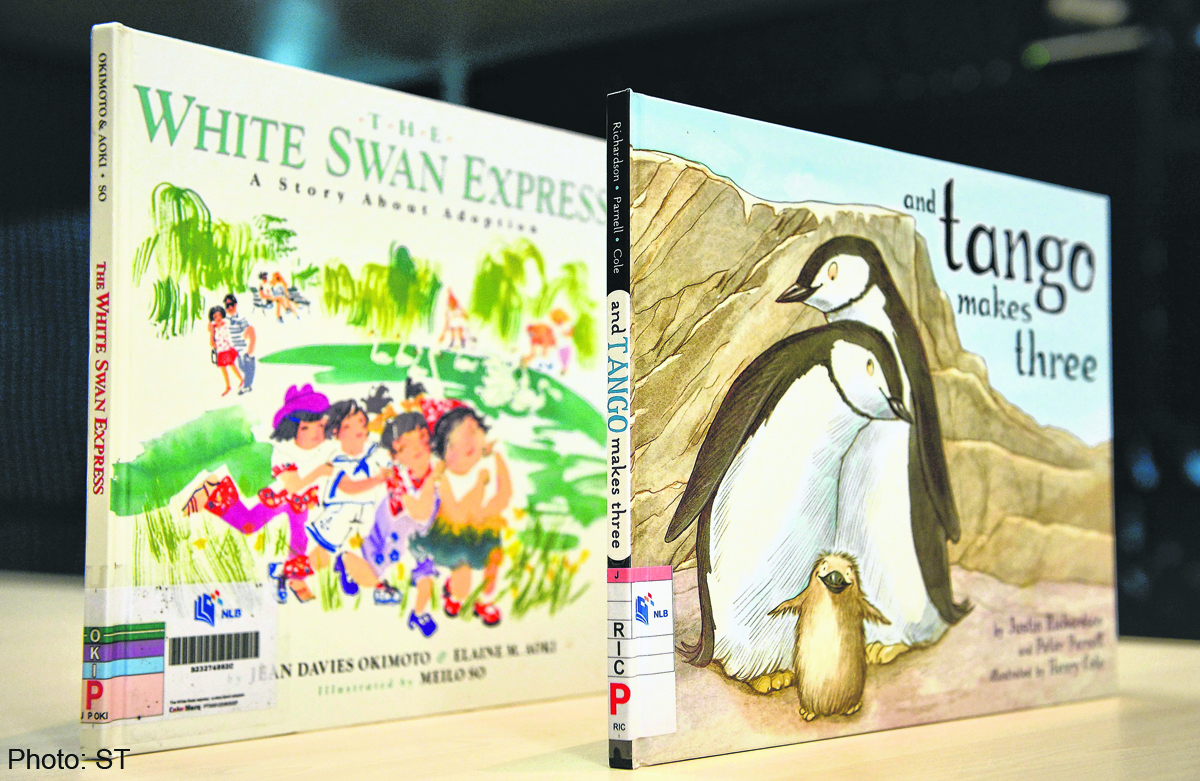 A controversial children's book, And Tango Makes Three, that was removed last month, had gone through an internal review by the National Library Board (NLB) in 2009 and was deemed suitable.
Minister for Communications and Information Dr Yaacob Ibrahim revealed this in Parliament yesterday.
But what changed five years later?
"We received feedback and therefore the book was reviewed with a fresh pair of eyes... and noting the current environment, they decided internally, based on their professional judgment, that it was best to be withdrawn," he said.
Dr Yaacob added that And Tango Makes Three was not on the American Library Association list -which publishes a list of the most challenged books in American libraries yearly - when the NLB acquired the title in 2005.
He was responding to Tampines MP Baey Yam Keng's question about the professional judgment of the librarians that led them to acquire the book and their subsequent decision to withdraw it.
The NLB's divisive decision last month to remove And Tango Makes Three and another book, The White Swan Express, which contain references to gay relationships, drew questions from eight MPs yesterday.
Dr Yaacob later told the NLB to reverse its decision to destroy the books and move the two titles from the children's section to the adult section instead.
Nominated MP Eugene Tan said: "I think it is important in any society to have safe spaces in which contesting ideas can find a platform.
"That's why I'm concerned that in this episode, the NLB was sucked into a contest of values and I wonder whether NLB will now have procedures to avoid being caught in such a tussle."
The Associate Professor of Law at Singapore Management University said he hoped the NLB would not flinch from making hard choices and go for safe titles, otherwise "society will be a lot poorer".
He also asked how community norms could have changed between 2009, when a review deemed the books suitable, and this year.
Dr Yaacob said the 2009 review was looking at the discussion at that point in time, but things have changed.
Not Appropriate
Referring to this year's decision, he said: "There was feedback from the public, and they decided that maybe it's not appropriate for us to have the book in the children's section."
The minister felt the NLB has not shifted significantly, but such decisions are "not an exact science".
He said the people in this year's review had their own views and made their own decisions "but at the same time, we recognise that the process is never foolproof".
Dr Yaacob also said the NLB would not go just for safe titles, citing how it has "expanded the adult collection significantly, bringing in titles which may be controversial to some groups of society".
Local writer and editor Alvin Pang said he was disturbed that a complaint from a member of the public could have resulted in such a "dramatic reversal of a tried-and-tested book".
The NLB Read! Singapore-featured author added: "If a book is tried and tested in the past, it should have been much harder to contest and remove. It wasn't a new addition.
"Perhaps there was a lapse in institutional memory, and the sound arguments for acquiring, defending and retaining the books in years past had been forgotten."
Housewife Li Lee Sui, 35, who has three young children aged one, seven and nine, said she did not approve of the books, but was against the way they were taken off the shelves so quickly.
She said: "It should not be in the library of churches or in the library of kindergartens without parental guidance, but I think it deserves a spot in our public library, which is a source of information.
"Literary works should be respected. Besides, state funds are involved here."
Both of them are glad the NLB has reversed its decision to destroy the books.
Madam Li had previously suggested that the books be placed in a restricted area of the children's section.
She said: "I think it will please all parties involved and it's a compromise to place them in the adult section. It's better than pulping."
Mr Pang is hopeful the books will be reclassified in future.
He said: "I think in light of this latest news, perhaps they should one day find their way back to the children's section, where they had been since 2005."
Advisory panel to help review books
An advisory panel, comprising a cross section of society and including those in the literary community, will be set up to help with the review process.
Minister for Communications and Information Dr Yaacob Ibrahim said this would allow the National Library Board (NLB) team to "test their judgment" on a wider audience.
But he emphasised that NLB will still have the final say.
There will also be separate NLB teams to select books for acquisition and to review the books.
No more pulping ?
Controversial books may no longer be pulped in future.
Now most books are withdrawn and pulped because they are worn out or torn. Books that become outdated, such as IT books, are either sold or donated, said Dr Yaacob.
The announcement that two children's book titles would be pulped after they were withdrawn from library shelves sparked a public outcry last month.
He said: "It reflects a deep-seated respect in our culture for the written word and it's for this reason that I have asked NLB to transfer And Tango Makes Three and The White Swan Express to the adult section.
"NLB's key objective in ensuring that the children's library is age-appropriate can still be achieved."
linheng@sph.com.sg
This article was published on Aug 5 in The New Paper.

Get The New Paper for more stories.