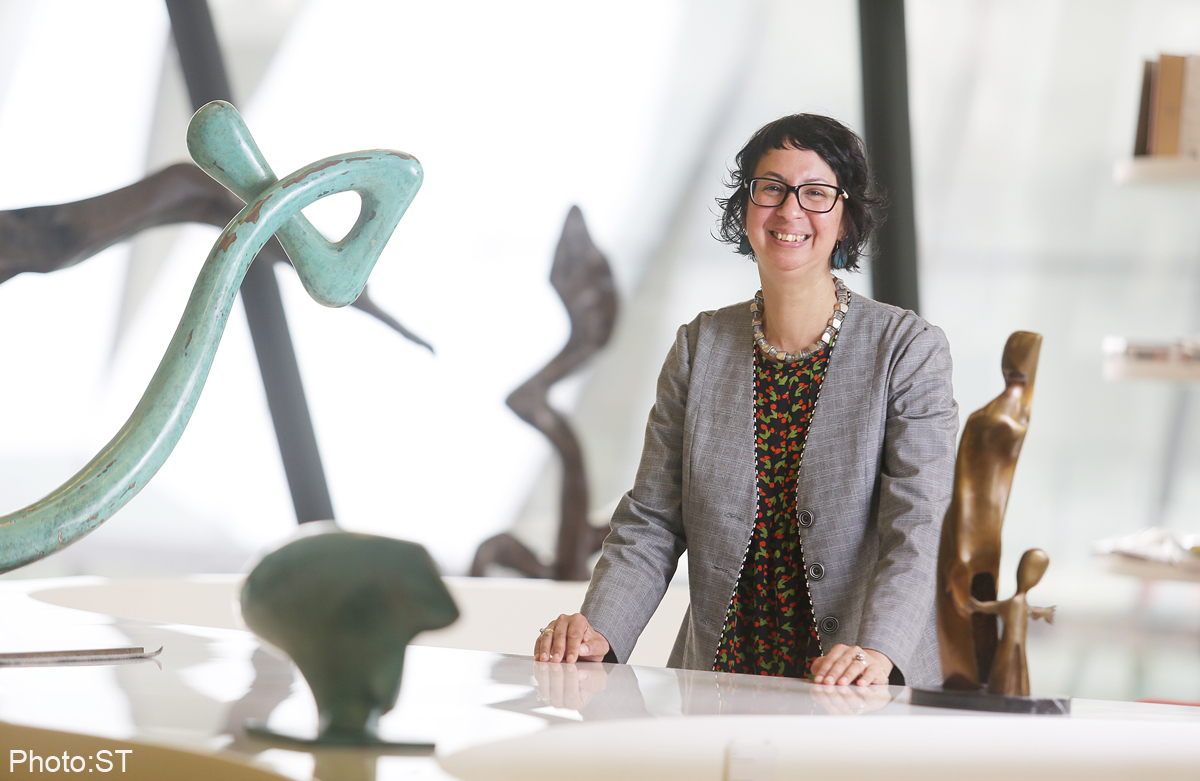 SINGAPORE - Ms Bala Starr, 47, has hardly had time to warm her director's seat at the Institute of Contemporary Arts Singapore.
The Australian curator has been busy meeting academics and artists in the first month of her appointment at the institute, the curatorial arm of Lasalle College of the Arts.
She takes over from Dr Charles Merewether, the institute's former director, who left in September for a teaching position at Nanyang Technological University.
Ms Starr, former senior curator at the University of Melbourne's Ian Potter Museum of Art, is no stranger to contemporary Asian art and the region. She has curated solo shows for Indian artist s Gigi Scaria and Jitish Kallat at the museum and she has been following the Asian art scene since her stint as international programme manager for the 1999 Melbourne International Biennial. She is also no stranger to Singapore as she has made professional and personal visits here previously.
But she is eager to sink deeper roots into the region's contemporary art scene, and her enthusiasm reflects her curatorial approach and the institute's direction under her leadership.
She tells Life! in an interview: "I've always been very interested in working personally, and specifically, with artists to better understand the context in which they produce their work - what are their material choices, where do their ideas come from."
Her interest is influenced by her start in the profession two decades ago as assistant director of Gertrude Contemporary. She joined the Melbourne art complex after obtaining a bachelor's degree in education from the University of Melbourne and worked closely with emerging Australian artists, helping them develop their careers.
She hopes the institute's seven galleries will also support artists here and in the region with a space to display their work in a critical manner.
"We know there is a massive emphasis, even internationally, on simply producing this kind of repetitive programming and output of exhibitions. But what do they really mean?" she adds.
"How can we take greater care in thinking through with artists and curators what is truly possible for an exhibition model? That's where we've got a lot to offer as the curatorial division of Lasalle."
Ms Starr, who is married to Australian artist Jonathan Nichols - they do not have children - says she applied for the post because of the institute's "strong emphasis on experimentation and innovation". She says she was drawn to it because "other parts of the world are looking to this region as a generator of ideas" on art exhibition, and being here would place her in the thick of the "dynamic cultural intersections" being forged by artists in the area.
She is keen for the institute to participate in this development and she aims to do so by exhibiting Singapore and regional artists alongside those from the West. Through such matches, she hopes to foster relationships among the artists and spark fresh conversations and ideas about art.
She is also mindful of the need to reach out to the wider public.
She says: "In many communities around the world, we appreciate how, when visual artists move into a suburb, it becomes groovy. We understand in an abstract sense the value artists bring but how can we deepen that? Our job is to deal with the private practice of artists and share that with a wider audience so that we'll have a richer, deeper culture."
Dr Merewether, on the other hand, hopes to further the discourse by teaching students here how to "think critically about art and make evaluations and judgments". He joins NTU as a visiting professor next month. The Scotsman, who brought important shows such as an exhibition on famed Filipino artist Roberto Chabet to the institute during his three years as its director, says: "It was a great job and institution but I'm a restless soul and I wanted to do something else."
Ms Starr's appointment to the institute follows the recent naming of Professor Ute Meta Bauer as founding director of the Centre for Contemporary Art at NTU's School of Art, Media and Design.
Art consultant Lindy Poh, 44, says the development of these tertiary art institutions is important as they offer "counters and checks to other very powerful impulses in our art ecology - the art fairs, the dealers, agents, auction houses and commercial galleries".
She says: "When we experience how entertaining art in such conditions can be, we easily forget that strong, important art also involves intellectual engagement. I see these new research centres as hopefully committing to the study and scholarship of art and providing students with rigorous methodologies and skills to make critical assessments."
lijie@sph.com.sg

Get a copy of The Straits Times or go to straitstimes.com for more stories.