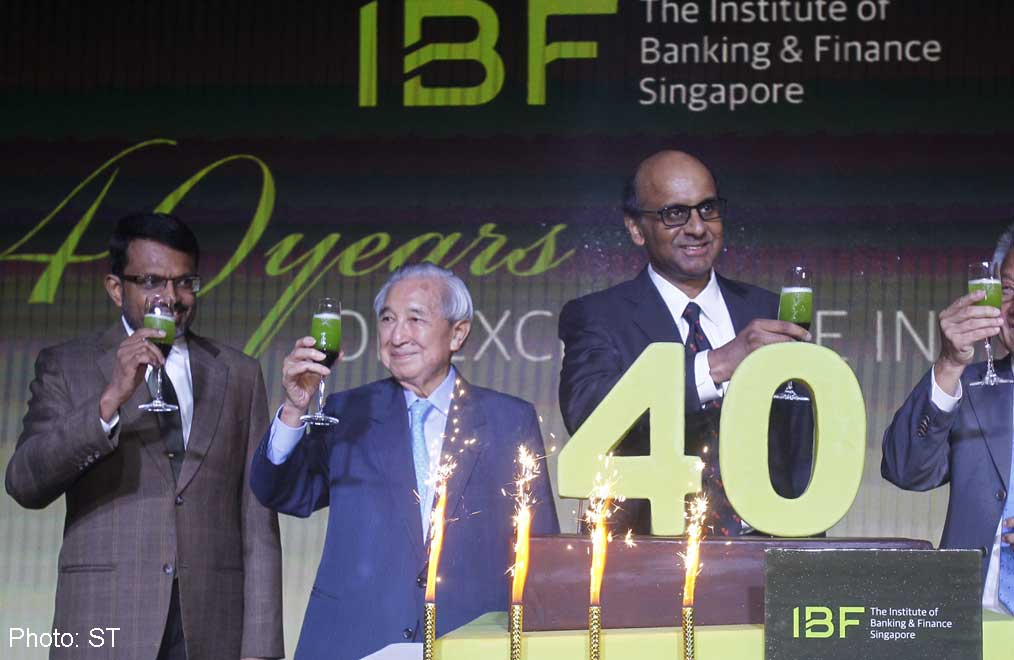 Building specialised skills, rather than expanding the number of jobs, will drive the growth of the financial sector as it shrinks in size, said Deputy Prime Minister and Finance Minister Tharman Shanmugaratnam yesterday.
Singapore's financial sector registered a deceleration in job growth in the last few years, with some 5,000 new jobs created a year in both 2013 and 2012, down from about 10,000 new jobs a year in 2011 and 2010, Mr Tharman told a dinner event to mark the 40th anniversary of the Institute of Banking & Finance Singapore.
As the global financial sector grows smaller, redundancies have outpaced new hires by roughly two to one, and financial institutions have been under pressure to consolidate activities in trading and securitisation, which have higher capital charges, he noted.
"Weak economic growth and higher capital requirements in the wake of the global financial crisis are forcing financial institutions to review their business models and restructure," said Mr Tharman.
Against this backdrop, there are also great strides being made in the area of technology. More financial transactions can now be done cheaper and faster than before and, to an increasing degree, automatically.
This has already played out on Wall Street, where analysts believe the fresh round of job cuts this year reflects the shift from branch to mobile banking, Mr Tharman said.
It will change the profile of jobs in the global finance sector too.
"We saw an earlier wave of this during the IT revolution of the 1990s, when many typing and clerical jobs, and those in switchboard operations and routine production lines were lost," he said.
"In the next wave, experts now foresee many more white-collar jobs at risk globally."
In the midst of these changes, though, Asian finance is still expected to grow for at least another two decades, Mr Tharman said, pointing to the increasing trade flows and wealth creation in this region.
To that end, he said there is demand for specialists in areas such as structured trade finance and risk management. Mr Tharman also saw knowledge of the region as an essential skill, and said Singaporeans in the financial sector should be supported in building this expertise.
"Cross-border solutions and transactions are increasingly the norm in the business," he said. "It also enables financial institutions to manage their risks well, and operate effectively in Asia's still diverse regulatory frameworks and market environments."
Global banks with a Singapore presence such as Citi and Standard Chartered said they are encouraging Singaporeans to head overseas to gain experience.

Get The Business Times for more stories.