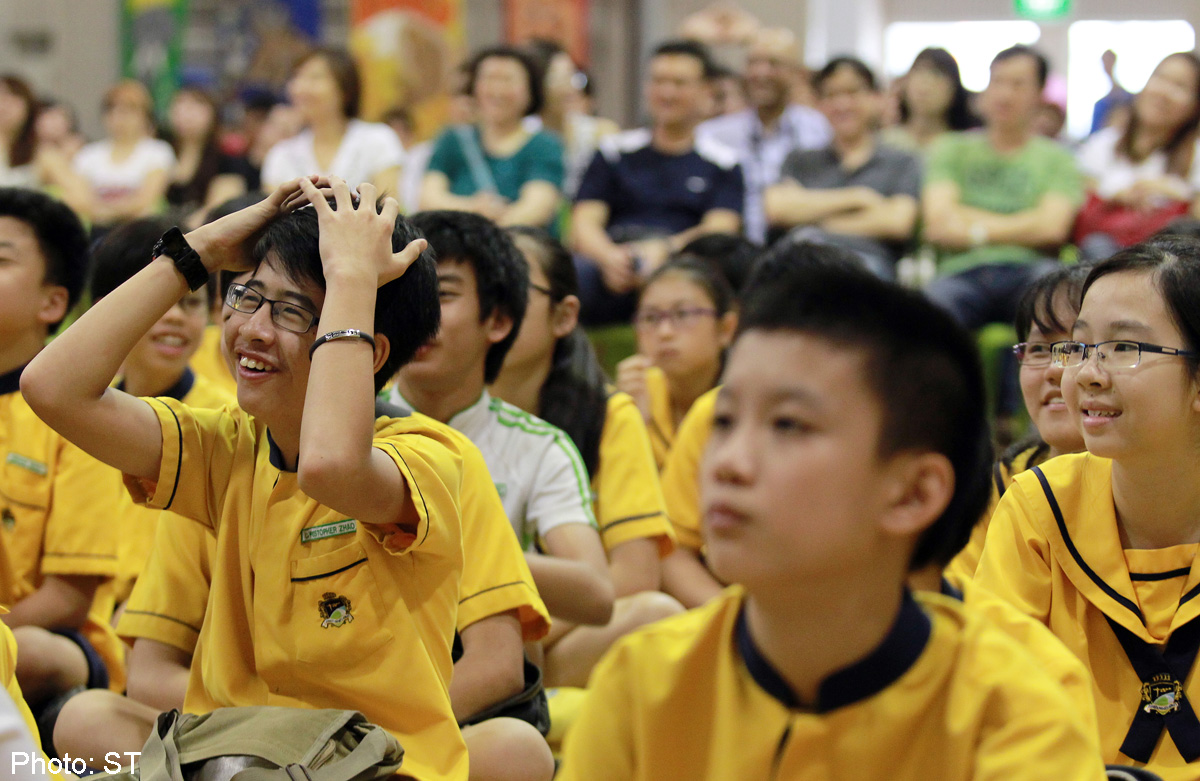 SINGAPORE - Ms Denise Phua (Moulmein-Kallang GRC) yesterday proposed a new education model, in which students stay in school for 10 years without "make or break" tests such as the Primary School Leaving Examination (PSLE).
This could be done in a "pilot cluster of schools" that would form the basis for a new model of education for Singapore, she said in a speech in Parliament on the future of education.
Her proposed pilot schools would not sort students into streams, nor "excessively assess their students through competitive tests". They would be inclusive, letting students of different socioeconomic backgrounds, abilities, race and religion interact.
And special effort would be made to help the disadvantaged, from providing them with computers to allowing them longer school days, she said during an adjournment motion that lets her speak for up to 20 minutes.
While she understands the need to move at an acceptable pace of change, she said there is a segment of Singaporeans who want to move "more boldly and swiftly", and take the education changes "beyond the current trimming of the excesses of the system", hence her proposal.
In his reply, Education Minister Heng Swee Keat said innovation was important and the means by which "we can do better".
"But for innovations in our education system to bear fruit, our approach must be guided by certain principles," he said.
One principle is a "multi-layered approach", with innovations at the system level, in individual schools, and in all schools - the last of which he highlighted as "very important".
"It may not have the same visibility as setting up a specialised school," he said. "But its impact is systemic."
He said he would give Ms Phua's proposal "serious consideration". But he added: "I should also caution that having debated many of these issues in my ministry, there are significant policy and implementation issues that we would have to consider."
The proposal should also be set in the context of the many changes the Ministry of Education is rolling out, he said.
These include changes to the PSLE system, a renewed focus on values and more flexibility for Normal stream students - all of which Ms Phua herself noted.
This need for "pacing and prioritisation" was among the principles of innovation he laid out.
Another was "to build on and retain our strengths" - even if these can have adverse effects.
"For all the areas we are critical of, we also have to recognise that our system is highly regarded internationally, and has served our students well," said Mr Heng.
This is because Singapore has encouraged effort and the pursuit of excellence, and created opportunities for all, and also because parents value education and teachers are dedicated.
janiceh@sph.com.sg

Get a copy of The Straits Times or go to straitstimes.com for more stories.