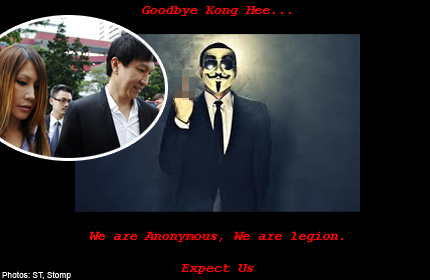 SINGAPORE - The individual who hacked into co-founder of City Harvest Chuch and pop singer Ho Yeow Sun's website has resurfaced with more rants against her and husband, church pastor Kong Hee.
The website, hosted on a Spanish domain, answered a list of eight questions and explained why Ho's website was attacked.
The hacker, who calls himself "The Messiah", said he was operating under the Anonymous Collective, a group that has in the past infiltrated such organisations as the Church of Scientology and electronics giant Sony.
The hacker had previously threatened to expose the couple's "hidden agenda" and release personal data into the public domain, unless they "confess" to their "crimes".
Kong Hee has since reported the hacking of his wife Sun Ho's website to the police.
According to a report on The Straits Times, he also spoke out against the hacker on Monday, saying he was "very concerned" that the hacker's statements "appear to have been intended to cause readers to influence and pre-judge the issues in the criminal proceedings that are presently on-going".
He added that while he and Ms Ho have been the subject of criticism over the years, but "this episode is particularly malicious".
He hopes the authorities "will act to protect the integrity of the administration of justice, and take all necessary steps to find and stop the person or persons responsible for these malicious acts".
Church founder Kong Hee, and five deputies are currently on trial for an alleged misuse of church funds. Close to $50 million was allegedly used to finance Ms Ho's pop career in the United States. 

Visit STOMP for more stories.