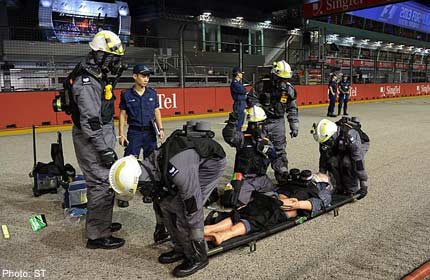 SINGAPORE - The Singapore Civil Defence Force (SCDF) wants to blunt the potentially deadly impact of a dirty bomb or gas attack here with new technology.
The key: to get casualties out of disaster zones or places under siege fast. And the solution, believes the SCDF Hazmat, or hazardous materials department, is automation.
The unit, which responds to industrial accidents or incidents involving toxic chemicals or hazardous materials, put out a tender on the government procurement website GeBiz late last month for an "automated casualty conveyance system" that is more effective at moving incapacitated casualties than stretchers.
The prototype system, essentially a conveyor belt for humans, must improve the efficiency of moving non-ambulatory victims, especially in the event of a mass-casualties incident, with less manpower, said the SCDF in the tender documents.
While casualty-moving devices already exist on the market, they are mostly collapsible systems that require manual operators to wheel casualties along its length.
The prototype, though, will be a mechanised unit that requires only two emergency responders to monitor the casualty flow. Precious minutes would be saved sending casualties of such disasters from a decontamination point to an area where they can receive first aid.
The SCDF also wants the self-powered unit to be capable of running for two hours on its own.
Robotics and disaster-relief experts said such a system would be especially invaluable during the immediate hours following a large-scale disaster, freeing up first responders to perform more urgent tasks like finding trapped victims.
"Unlike humans, a machine also won't get tired out," said Associate Professor Chen I-Ming, director of Nanyang Technological University's Robotics Research Centre, especially given the uncertainty of rescue operations.
"But humans are still the most flexible, and responders using stretchers can negotiate different terrains, such as staircases, that may be impossible for the platform."
He added that like other patient-transfer robots that have been developed by Japanese companies such as Panasonic, extensive trials with human subjects are necessary to prove their safety in real-world use.
The Sunday Times understands that, if successful, the SCDF would be the world's first emergency services force to have such a tool as a part of its disaster fighting arsenal.
yanliang@sph.com.sg

Get a copy of The Straits Times or go to straitstimes.com for more stories.