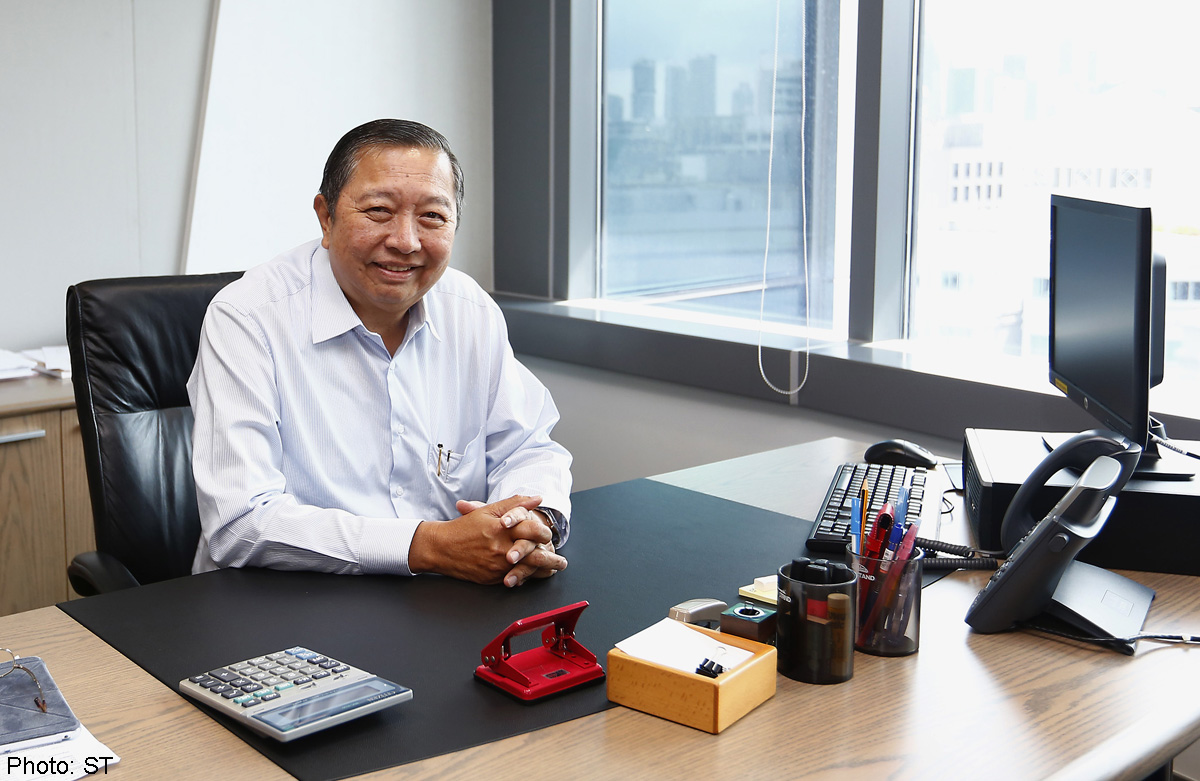 A retail branch manager at Singapore Pools once decided not to sell lottery tickets to a customer, telling the person to take a break from gambling.
At other workplaces, bosses may chide the worker for turning away business. But to Mr Tan Soo Nan, the manager made a good call, and this showed the importance of building what he called a culture of responsible gaming.
"My philosophy is that if you want to practise responsible gaming, it is more than just a code and rules. You need to build a culture, because that is more sustainable," he told The Straits Times in an interview before he retired as chief executive of Singapore Pools last Wednesday.
Responsible gaming may seem an oxymoron, but Mr Tan, 66, strongly promoted this in his 12 years as head of Singapore Pools.
It was not so much to change public perception of the gambling operator as it was part of a long-term business strategy. "This is important, because it differentiates you from the illegal gambling operators completely," he said.
Singapore's only legal lottery operator offers betting on games such as Toto and 4D, football matches, motor racing events and horse races.
Mr Tan said: "The kind of products we offer may lead to problem gambling. So how do we put in place measures that minimise harm?"
Singapore Pools does so by empowering front-line staff to turn away those who make repeat purchases, and not allowing credit card payments, among other things.
"If there is an explosion of incidents of problem gambling coming from the way you run your business, your whole reputation stinks, you can't maintain a right position with the regulator, and there are many things that you can't do," said Mr Tan.
The subsidiary of the Singapore Totalisator Board, a statutory board under the Ministry of Finance, needs approval for things such as opening betting outlets.
Under Mr Tan, who was with DBS Bank for 30 years, Singapore Pools was one of only three gaming operators in the Asia-Pacific region to obtain the highest Level 4 certification in 2012 under the World Lottery Association's Responsible Gaming Framework.
In 2003, Mr Tan started the iShine staff volunteerism scheme, under which about 40 per cent of Singapore Pools' 600 staff help the disadvantaged each year.
"I firmly believe that if you are out there doing good, you cannot come into the office and do bad things," said Mr Tan. And public perception of Singapore Pools has improved.
Its 2013 survey of 1,000 customers showed 91.5 per cent of respondents saw it as a responsible gaming operator, up 5.2 percentage points from 2011.
But misunderstandings remain, he said. For instance, when an outlet opens, some think Singapore Pools is expanding. But its number of outlets has in fact dropped from 304 in 2006 to 290 last year.
The "new" outlet could actually be a relocation, he said, adding that communication about this could be improved.
Mr Tan's time at Singapore Pools had coincided with intense criticism of gambling, given the earlier debate over plans to allow casinos to operate.
But the father of two, who sees gambling broadly as taking chances in life, is not too concerned about the negative image of leading a gambling operator, saying: "Why engage in things that create a lot of emotions and controversial views? If you believe that gambling is wrong, you'll always believe in it anyway, so why do I need to convince you that it is okay? It's not productive."
On a lighter note, Mr Tan also had complaints from punters. For instance, outlet staff who yawn may get an earful from punters who think this suggests the workers will "eat up" their money.
Quirks aside, the betting business faces normal challenges such as cost pressures and staff shortage, he added.
Staff said Mr Tan was not short of ideas and liked to stretch them.
Chief marketing officer Marilyn Ling said many people were "reassigned new and challenging roles" to harness their potential.
She herself was chief information officer for 17 years before she was given the chance to head marketing and sales operations.
Mr Tan said the staff are skilled in technology, statistics and human resource work and these qualities can be used to do more good.
In the latest financial year ending March 2014, Singapore Pools channelled $598 million to the Tote Board for grant- making and social investments, up from an average $544 million per year in the preceding five years.
Mr Tan said Singapore Pools needs to see if it can go beyond giving money to contributing skills. Summing up, he said: "This business may bring some harm, but we're part of the community and we can do more."
goyshiyi@sph.com.sg

This article was first published on Jan 5, 2015.
Get a copy of The Straits Times or go to straitstimes.com for more stories.