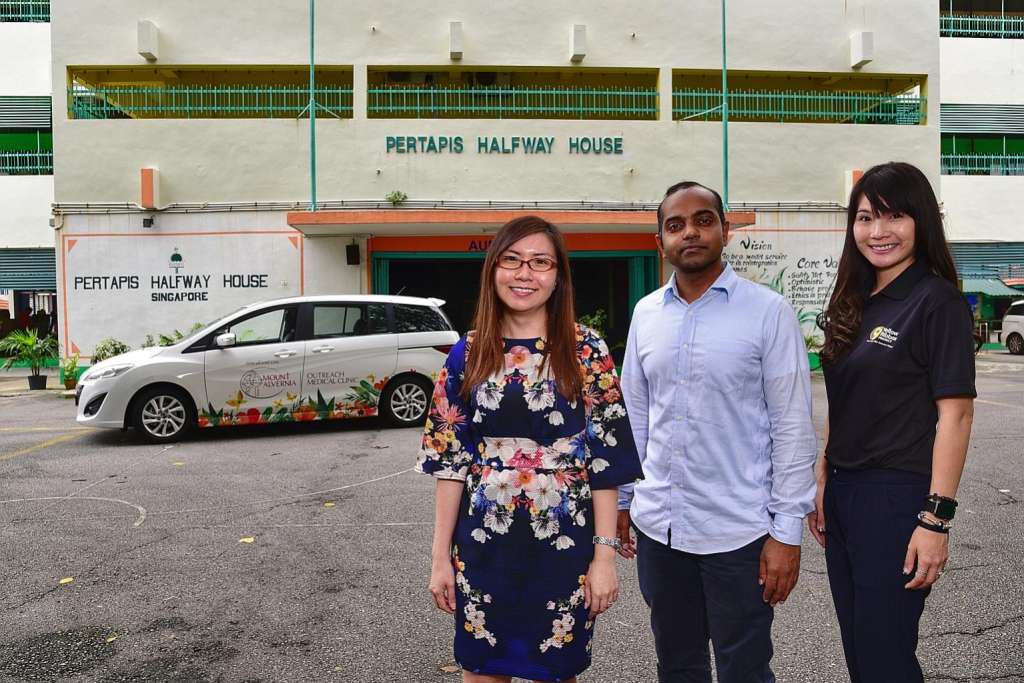 Ex-offenders at the Pertapis Halfway House in Geylang Road used to walk more than 20 minutes to the nearest polyclinic in Geylang East Central for a check-up.
And because of that, some of them would postpone treatment.
But now a team of doctors and nurses visits them at the halfway house in a white seven-seater car.
The team from Mount Alvernia Hospital sees patients at Pertapis Halfway House, as well as HighPoint Halfway House in Geylang Lorong 23, and the hospital plans to take its mobile service to more halfway houses this year.
Although a mobile medical service has previously been used to care for the elderly, this is the first time it is being used to reach out to ex-offenders at halfway houses.
The halfway house initiative is supported by the Yellow Ribbon Project, which helps ex-offenders reintegrate into society.
So far, the medical team has seen about 50 ex-offenders at the two halfway houses.
Yellow Ribbon Project secretariat Denise Chow said: "We realised there is a group of ex-offenders who will wait until their illnesses become more serious before seeing a doctor. With this, they can now get help at an earlier stage."
The mobile clinic provides preventive care, such as flu vaccinations and health screening for chronic diseases.
The team also conducts general practitioner consultation and dispenses medication for ailments such as the common cold, flu, fever and pains, said Ms Anthea Neo, senior manager of community outreach at Mount Alvernia Hospital.
The team, made up of volunteers and staff, sets up a makeshift clinic or health screening area at any available space in the halfway houses, she added.
Discussions are underway with several halfway houses here to fix a schedule for regular visits, with a focus on primary care services.
Separately, the team aims to have health screening at the halfway houses at least once a year.
Although the car has provided the team with more flexibility, residents of different halfway houses may have to gather at one place to be seen by the medical team.
"We have to look at the needs of the community and figure out the logistic details first.
As some of the halfway houses are quite small, we may need to combine a few of them at a time," Ms Neo said.
Ex-offenders sometimes find it difficult to receive medical attention because of accessibility and cost, said Mr Thajudeen Muhd Equban, a caseworker at Pertapis Halfway House.
Ex-offenders have to get approval before they can leave the halfway house to see a doctor, he said.
Mr Thajudeen added: "The nearest clinic is Geylang Polyclinic, which is around a 20-minute walk away, and they will have to be accompanied too."
A polyclinic visit can cost around $20, which some ex-offenders may not be willing to spend, he said.
Some of the ex-offenders were initially hesitant to approach the mobile clinic when it turned up in May last year, but Mr Thajudeen and his colleagues were on-site to explain the initiative to them.
On the day of the free clinic, the medical team saw about 15 of the 70 residents.
A 35-year-old ex-offender, who wanted to be known only as Mr Rozaidi, said: "I feel happy and assured about my health. I don't have to worry so much about my health, and can focus on being a better person."

This article was first published on Jan 04, 2017.
Get a copy of The Straits Times or go to straitstimes.com for more stories.