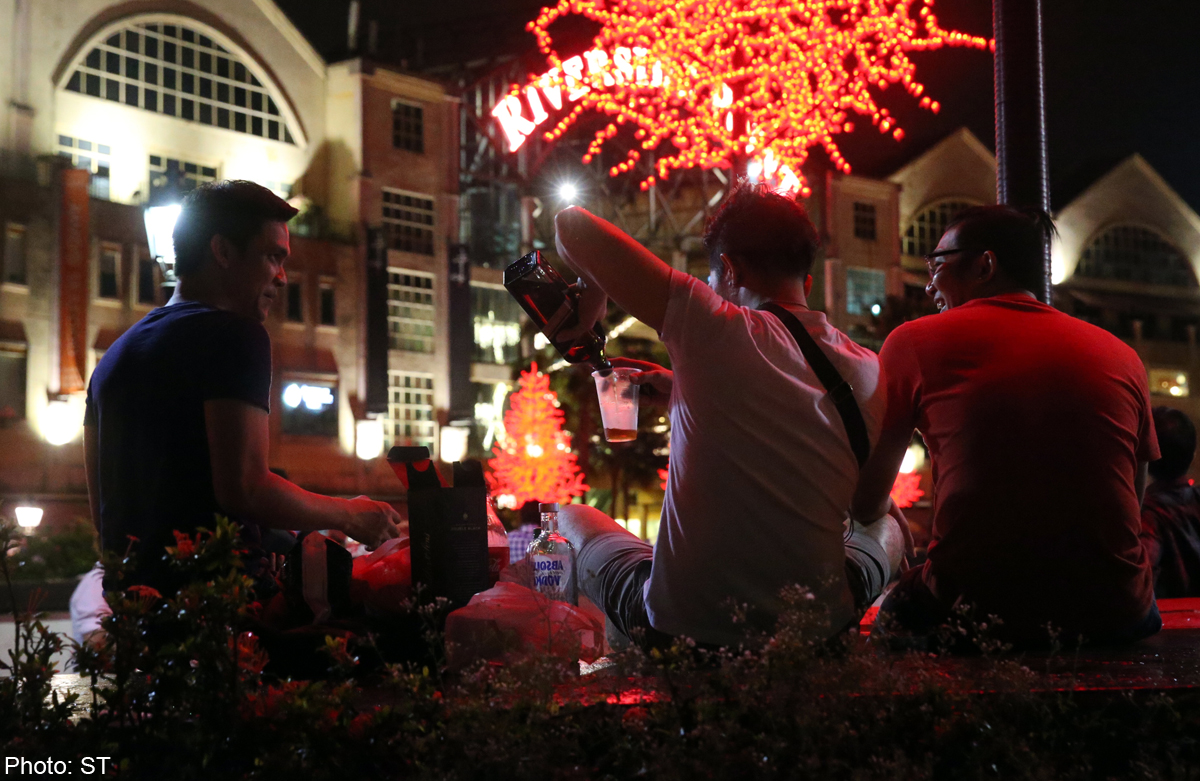 Curbs on alcohol drinking and sales kick in today, under the Liquor Control (Supply and Consumption) Act passed in Parliament on Jan 29.
The Act aims to minimise "public disorder and disamenities" arising from drinking in public, the Ministry of Home Affairs (MHA) said yesterday in a statement.
Here is a look at what you can and cannot do under the new law.
CAN I DRINK ALCOHOL IN PUBLIC?
Yes, but there are restrictions on when you can drink.
From 10.30pm to 7am daily, liquor consumption is not allowed in all public places.
Public places are open-air or enclosed spaces that members of the public have access to, including parks, pavements and Housing Board void decks and corridors. Chalets are not considered public places if booked for a private event that the public cannot access.
There are further limits for Geylang and Little India, which are deemed to have a higher risk of public disorder associated with excessive drinking.
Drinking liquor in public spaces in these areas is banned from 7am on Saturdays to 7am on Mondays, as well as from 7pm on the eve of a public holiday to 7am on the day after the holiday.
WHERE CAN I DRINK DURING THE RESTRICTED HOURS?
Alcohol can still be consumed at home, as well as in licensed premises such as restaurants, coffee shops or bars, but in line with the hours stipulated in their licences.
Liquor can also be consumed in specific national parks only if members of the public have a valid permit issued by the National Parks Board (NParks) to organise a barbecue in those parks.
The parks with barbecue pits which can be booked on the NParks website are: Changi Beach Park, East Coast Park, Labrador Nature Reserve, Pasir Ris Park, Sembawang Park and West Coast Park.
Alcohol must be consumed in the immediate vicinity of a barbecue pit and during the permit duration.
For barbecues and events at other public spaces, like other parks, a separate consumption permit issued by the police is needed. Alcohol can be consumed only within the permit duration. Applications for such permits can be made on the police website.
CAN I BUY TAKEAWAY LIQUOR DURING THE RESTRICTED HOURS?
No. The sale of takeaway liquor to consumers is banned from 10.30pm to 7am daily.
But the police may allow retail sale hours to be extended on a case-by-case basis. Considerations include the propensity for public disorder and disamenities in the area, and extra measures that a licensed retailer will put in place to reduce problems related to alcohol drinking.
There are further limits for Geylang and Little India. Sale of takeaway liquor is banned from 7pm on Saturdays, Sundays, public holidays and the eve of public holidays, instead of 10.30pm.
Licensed premises - including restaurants, coffee shops or bars - can still sell liquor for consumption in their establishments, based on their existing licensing hours and conditions.
WHAT ARE THE PENALTIES?
A person found to be drinking alcohol illegally can be fined up to $1,000. A repeat offender can be fined up to $2,000, jailed for up to three months or both.
Shops that sell liquor after the allowed hours can be fined up to $10,000.
Offences committed in Geylang and Little India will result in a penalty of 11/2 times that in non-designated areas.
But MHA said the police will "take a calibrated and even-handed approach in enforcing the law".
myp@sph.com.sg
For more details, visit bit.ly/1NCCHnL

Get MyPaper for more stories.