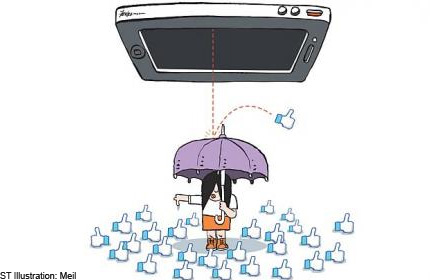 They crook their index fingers in your direction and beckon you over. They would love you to Like them and once you do, they will seize you by your Thumbs Up and pull you into their world.
From old brands to new malls, politicians to pals, so many entities already try to lure you into interacting with them online. With social media companies under pressure to monetise that fat amount of information you are chucking online, how much more intensely will our lives be massaged and milked for data that can be sold for profits? And from there, will we at some point be headed hotly for an interactivity burn-out? Perhaps your own finger is growing tired and crooked, bent stiff from all that tapping and clicking.
Last Thursday, shares in the micro-blogging site Twitter closed at US$44.90 (S$55.90), up by about 73 per cent from their initial price of US$26 each, reported BBC.

That means after its first day as a public company, Twitter was valued at a little over US$31 billion - said to be a lot of money for a firm which has yet to turn a profit. One day after the debut, shares fell by 7.2 per cent. So, no pressure, just think of how much more Twitter is going to butt into your online conversations to make money from you.

And think of how Facebook is reportedly in a new phase to read your life more closely by using natural-language understanding - a sub-field of artificial intelligence (AI) that teaches computers to decode the intricacies of human language - on the billions of posts it captures. Not your bog-standard search tool.
Meanwhile, navigating your way through Singapore already feels like interactive stimulation on steroids.
Peel open a magazine or newspaper in the morning and you see pages scarred by QR codes which look like the nasty remains of scabs after you have picked them. Step out the door and advertisements at bus stops and shop windows also have those square lesions on them. Come, scan the scabs with your smartphone, come closer to scratch that itch to watch a video, get more photos, get encyclopaedic amounts of text.
Perhaps you were one of the commuters who glanced at a digital screen along a walkway in Dhoby Ghaut MRT station and spotted yourself onscreen with a speech bubble above your head in an augmented-reality ad campaign earlier this year. Your image is no longer your own as you involuntarily star - gratis - in an ad as the digital wall's camera filmed your image as you walked by.
Look down at your mobile phone and you can consume the chummy side of politics along with your mee goreng lunch. Politicians are ever so social now. Uppercase-Like them online, so you can get to know them better, then you can lowercase-like them for real. Feel the illusory closeness to your favourites from seeing their selfies and wondering if their thoughts are personal or policy.
You are by now familiar with how loads of online articles are tramp-stamped at the tail end with seductive little Instagram, Facebook, Twitter, Pinterest, Like and subscribe buttons. They all purr: "Come on, tap that."
You tap away - your eyes all googly from Googling. You are greedy for more even as you subscribe to far more digital streams than you can ever swallow. But it is not just the risk of interactive digital indigestion.
After work and school, perhaps those who enjoy art will head towards museums. There are ever more installations that want you to literally get your hands on the art. In one example at the ongoing art festival Singapore Biennale 2013, you are encouraged to put a personal keepsake in one of many boxes on a wall, and it will be mailed back to you after 10 years.
Perhaps those who enjoy movies had headed to a cinema to float in space with actress Sandra Bullock in Gravity when it was shown in 3-D.
Everywhere in the city, you are invited to insert yourself into ad campaigns, movies and art.
Cafes or bakeries want to sit you down at their websites and pour you a hot cup of their chef-owners' backstories - his ethically sourced-meat dream, her artisanal family-recipe vanilla cream.
You do want to pull up a chair, and get stuck into the stories and action. It is tons of fun, like sliding into a seat of a theme-park ride. But it is possible that beyond a certain number of pre-packaged interactive experiences, it is as if a USB plug has been stuck into a port in your head.

Does it rob you of imagination and leave you as a mere receptacle of sensorial overloading, does it turn your mind into a bowl of jelly? Are you being poured into moulds created by marketing teams? Are you tired of being reached out to by every service you use, every article you read?
Put your finger, thumb and your smartphone away for a minute to cleanse your palate. Wander unconnected and un-commenting as city sounds grow muted and mysterious.

Turn your face to the sky and let the sun set one glorious evening without snapping it and uploading it onto Instagram, and feel the tug on your heart of an unrecorded, perfect moment. Interact with that, then come back online, lovelier and louder than ever.

Get a copy of The Straits Times or go to straitstimes.com for more stories.