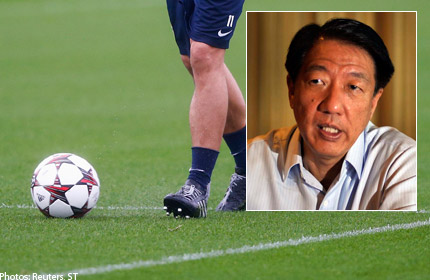 Deputy Prime Minister Teo Chee Hean has explained the considerations which were taken into account under the Criminal Law (Temporary Provisions) Act when detention orders were issued against four suspects involved in global soccer match-fixing activities. 
Ms Sylvia Lim asked: To ask the Deputy Prime Minister and Minister for Home Affairs what are the specific justifications for detaining four suspects of global soccer match-fixing under the Criminal Law (Temporary Provisions) Act rather than prosecuting them through the courts for corruption offences.
In a written response, Mr Teo Chee Hean said: "The Criminal Law (Temporary Provisions) Act ("CLTPA") provides powers for the Minister for Home Affairs to issue Detention or Police Supervision Orders against persons associated with activities of a criminal nature if he is satisfied that this is necessary in the interests of public safety, peace and good order. We have used the CLTPA as a last resort in cases where accomplices and witnesses dare not testify against criminals in court, for fear of reprisal. The CLTPA is used against criminal syndicates and organised groups involved in serious crime such as secret society activities, drug trafficking, and unlicensed money-lending.
"The same considerations for using the CLTPA were taken into account when Minister issued the detention orders against the four members of this criminal group involved in global soccer match-fixing activities. Like drug-trafficking and unlicensed money-lending, illegal soccer match-fixing activities are carried out by organised criminal syndicates with complex and layered structures motivated by financial gain. Witnesses able to provide testimony against the syndicate are unwilling to do so.
"Additionally, where cross-border illegal activities are involved, the difficulties of securing evidence and witnesses willing to co-operate and testify against the syndicate in open court are amplified.
"Given these circumstances, the Minister for Home Affairs issued Detention Orders on 2 October 2013 to four persons involved in the case.
"The four persons have been informed of their grounds of detention. As provided for under the CLTPA, their cases will be heard by an independent Criminal Law Advisory Committee (CLAC). These CLACs comprise former judges and experienced lawyers in private practice.
"They will each appear before a CLAC and can be represented by counsel at the Hearing. The CLAC will then submit a report to the President with its recommendations. The President, acting on the advice of Cabinet, may then confirm, cancel or vary the Orders.
"As the process is still on-going, we are not able to provide further information on the four cases."