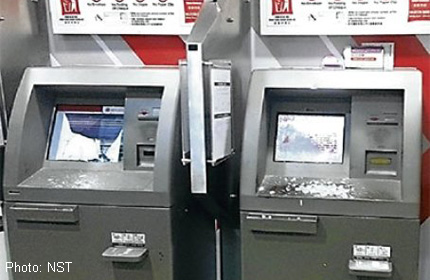 IPOH - A drunk man caused a stir when he started smashing the display panels of seven automated teller machines at a bank in Menglembu here on Saturday night.
The incident happened about 10.10pm when the 34-year-old suspect was attempting to withdraw money from the machines.
Ipoh district police chief Assistant Commissioner Sum Chang Keong said initial investigations showed the suspect became agitated after one of the machines swallowed his ATM card.
"At the time of the incident, he was drunk."
Sum said a police team from the Menglembu station, who was informed of the incident, rushed to the scene to arrest the suspect.
"We also seized a knife at the scene," he said, adding the suspect had been detained for investigations.