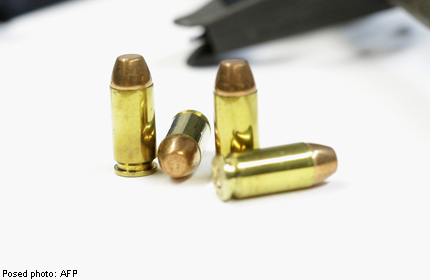 SERDANG, Malaysia - Narcotics officers investigating a tip-off found a cigarette pack with contents deadlier than the usual cigarette.
Police officers, who stopped two men in a car at the Besraya Highway on Aug 30, found 22 9mm bullets hidden in the pack.
Acting Selangor police chief Deputy Comm Datuk A. Thaiveegan said the bullets might have been smuggled in from Thailand.
"Officers also found another cigarette pack filled with a crystaline substance believed to be methamphetamine.
"Our initial investigations showed they were waiting for their buyers when they were arrested," added DCP Thaiveegan.
"The arrests were drug-related but we will be also be investigating their involvement in firearms trafficking," he said at a press conference yesterday.
He said both men, aged 23 and 28, have criminal records and were suspected to be members of Gang 08.
The younger suspect works as a lorry driver and has two drug-related convictions while the other man is an electrician and has three criminal records involving drugs and house breaking.
The case will be investigated under Section 15(1)(a) and 39A(2) of the Dangerous Drugs Act 1952, as well as Section 8 of the Firearms (Increased Penalties) Act 1971.
Meanwhile, DCP Thaiveegan said four people were arrested in connection with a number of break-ins at sundry shops and telephone shops.
The first suspect was detained in Serdang Perdana on Sunday.
After questioning, he led police officers to a house in the same area and three others were arrested. All suspects had criminal records and tested positive for amphetamine. Police seized about 100 mobile telephones and accessories such as batteries and top-up cards.
"We believe the items were stolen from shops in the Salak Tinggi and Sepang areas. We have so far identified four shops that are involved," said DCP Thaiveegan.
The suspects will be remanded until today.