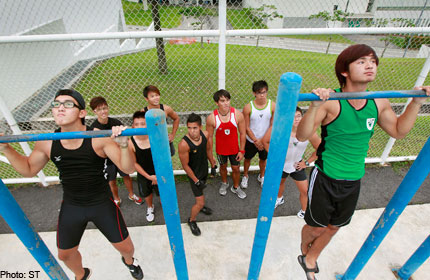 National service-bound males from polytechnics and institutes of technical education (ITEs) could take the National Physical Fitness Award (Napfa) test a year earlier, under proposed changes to raise their fitness levels.
Those who fail to get at least a silver award - the minimum requirement for pre-enlistees - will be put through a programme to get them in shape before they report for duty, said Second Defence Minister Chan Chun Sing.
Currently, polytechnic and ITE students take the Napfa test in their final year, with some even leaving it till two weeks before they are enlisted.
Mr Chan said the Singapore Armed Forces (SAF) is exploring with the schools a scheme that could be similar to the military's voluntary fitness programme, which allows less-fit operationally ready national servicemen to prepare for the Individual Physical Proficiency Test. The SAF regime comprises 10 training sessions over nine months or less.
With the proposed extra coaching, less-fit students get more time to train up and meet the Napfa test requirements. All pre-enlistees have to get at least a silver for the Napfa test to skip an eight-week physical training programme, which lengthens their NS.
Mr Chan, who sits on the Committee to Strengthen National Service, said getting pre-enlistees in shape will allow the SAF to use the soldiers' time "more purposefully without having to spend too much time on preparing the person to be fit".
About 60 per cent of final- year polytechnic and ITE students fail to get at least a silver for their Napfa test each year. In contrast, only about 20 per cent of their counterparts from junior colleges, integrated programme schools and centralised institutes fail to meet the mark.
One reason polytechnic students fare worse is that they do not have compulsory physical education classes - unlike in JC, for example - although polytechnics say final-year students can opt for fitness modules or schemes that focus on cardio- endurance and strength conditioning. In Singapore Polytechnic, about 160 students sign up for the hour-long weekly classes.
As part of a pilot programme, Singapore Polytechnic also puts first-year students through a compulsory two-hour-long physical fitness programme each week, said its director for student development, Mr Choo Keng Hui.
The three ITE colleges have also lengthened the weekly one-hour physical fitness lessons to two hours.

Get a copy of The Straits Times or go to straitstimes.com for more stories.