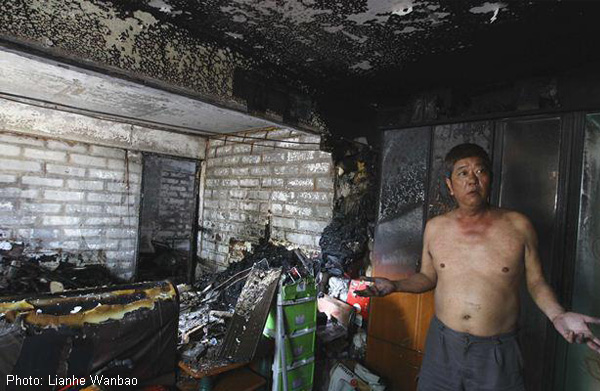 SINGAPORE - When SCDF officers arrived, the occupants of the flat where the fire first blazed - two men in their 40s and 60s - as well as 40 residents had already evacuated the block. 

Get the full story from The Straits Times.
According to a Lianhe Wanbao report, the fire occurred in a unit at Blk 33 Jalan Bahagia this morning at 1.50am.
The unit's two occupants, a pair of middle-aged brothers, were admitted to the hospital for observation - the older brother had inhaled too much smoke, while the younger brother was experiencing discomfort. The older brother was discharged when the Chinese daily visited Saturday morning.
The elder brother, Mr Poh, told Lianhe Wanbao that he was preparing to turn in for the night when he noticed flames in his brother's bedroom.
He entered the room and saw his brother attempting to put out the fire with a bucket of water.
Mr Poh tried to assist in extinguishing the flames, but had to escape from his house as the fire was too strong.
Mr Tan, who lived in the next unit, said that the wall separating his home and the unit on fire had collapsed, and that the furniture placed near the collapsed wall were burnt.
About 50 residents were evacuated to the void deck with the help of policemen. One woman felt unwell and sought medical treatment at a hospital.
A SCDF spokesperson told the Chinese paper that two fire engines, red rhinos, ambulances, and an aerial ladder were dispatched to help with the fire. The fire was put out in 10 minutes.