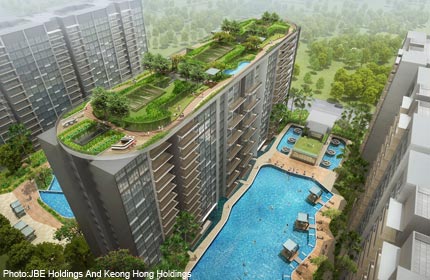 SINGAPORE - The Government will implement three measures to bring the terms for executive condominiums (ECs) more in line with those of public housing.
They are also expected to support a stable EC market, the Ministry of National Development said in a press release yesterday.
First, the cancellation fees for ECs will be cut from 20 per cent of the purchase price to 5 per cent, the same as that of Housing Board Build-to-Order flats.
The new rule will apply to land sales launched from yesterday onwards, including those where tenders have not closed.
Next, second-time applicants who buy EC units directly from property developers will be required to pay a resale levy.
This is similar to the rule for second-timers buying BTOs.
Finally, the Monetary Authority of Singapore will cap the Mortgage Servicing Ratio (MSR) for housing loans granted by financial institutions for EC units bought directly from property developers at 30 per cent of a borrower's gross monthly income.
This means your monthly loan repayment cannot exceed 30 per cent of your monthly salary.
This is in line with earlier measures to encourage financial prudence.
The cap will apply to EC purchases where the option to purchase is granted today or later.

Get The New Paper for more stories.