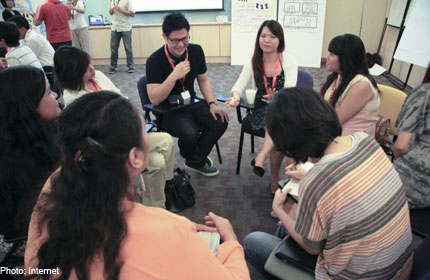 The National Volunteer and Philanthropy Centre (NVPC) is taking its efforts to get more people to give time and money to charity to a new level.
The non-profit organisation has created a new team which will engage the public directly as well as launch a revamped website with a forum on societal issues.
Mr Aun Koh, director of the expanded marketing, advocacy and development department at NVPC, told The Straits Times: "Our new push into advocacy reaches out to people who have not considered giving before as well as those who might have thought about it, but may not have known how to start.
"While Singaporeans are now giving more than ever before, more can always be done."
According to last year's Individual Giving Survey, which polled more than 1,500 people and was commissioned by the NVPC, one in three people here helped out for a good cause.
But while this was the first time the proportion has crossed the 30 per cent mark, many volunteered only occasionally and on an informal basis. This meant that it was not done through any organisation.
In its bid to engage the community, the NVPC will revamp its online publication, Salt, for a start.
It will evolve from a news magazine for the non-profit sector to a forum where members of the public can debate issues. NVPC will also be inviting student leaders, politicians and celebrities to become columnists.
This change will take effect within the next few months.
The NVPC, which links up volunteers and donors with charities and voluntary welfare organisations and provides training for the non-profit sector, will also increase fund-raising initiatives over the next year.
This is the first time the NVPC, which was set up in 1999, is playing such a proactive role to engage members of the public so that they will "give back to society".
Said Mr Koh: "The more our citizens and residents believe that they can make a difference, that it is partially their responsibility to stand up and help others in their communities, the more we move our society towards a giving nation."
Non-profit groups said that educating the public about giving is crucial.
Mr Martin Tan, co-founder of youth leadership group Halogen Foundation Singapore, explained: "I think the most important thing is to get Singaporeans to understand that volunteerism doesn't take a lot. If we can just chip in a little here and there, we can make our society a better place."
limyihan@sph.com.sg
Get a copy of The Straits Times or go to straitstimes.com for more stories.