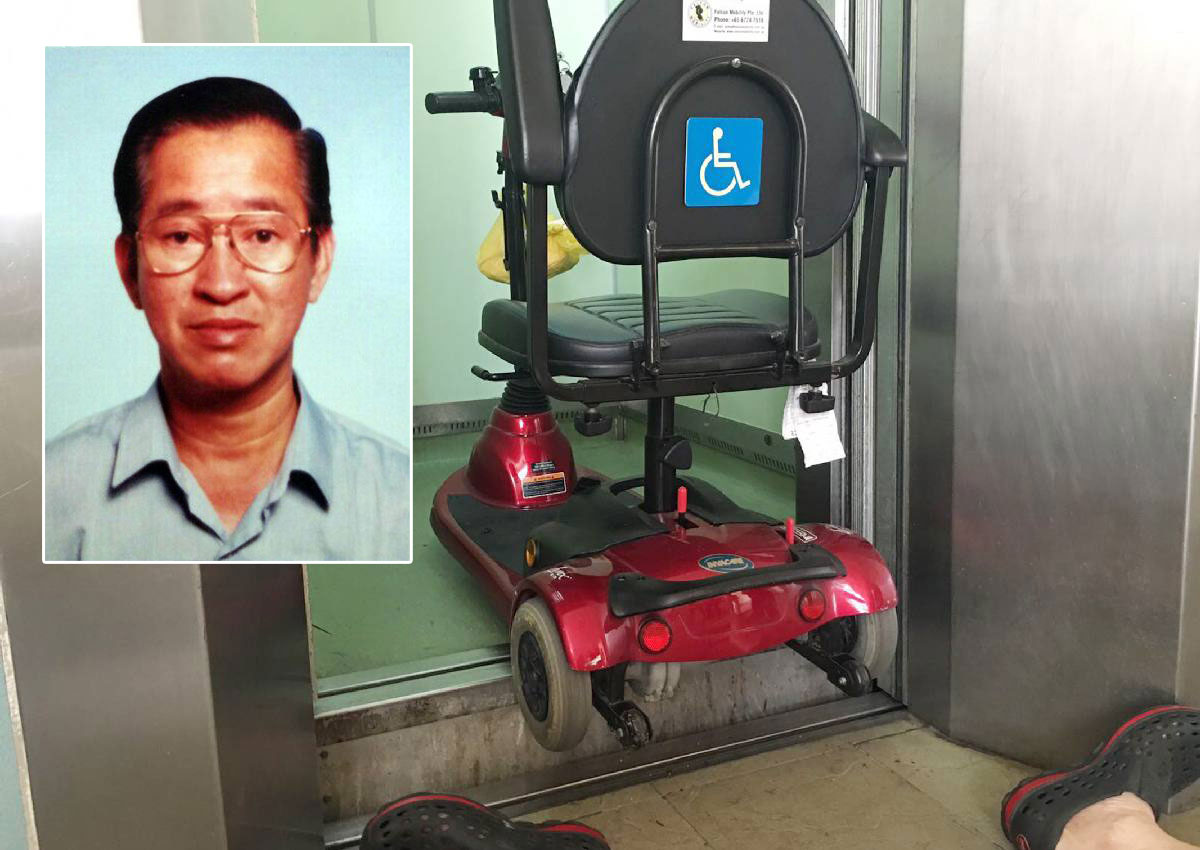 SINGAPORE - A 77-year-old man died after an incident in a lift at Block 247, Pasir Ris Street 21 today (May 16).
According to Channel NewsAsia, Mr Lim Hang Chiang had entered the lift on a motorised wheelchair on Sunday (May 15) morning. Two neighbours had also entered the lift with the elderly man.
Mr Lim Keng Swee, 45, the youngest son of the deceased man, was reported as saying that the lift had stopped 25 centimetres above ground, creating a gap. 
The incident had occurred when the elder Mr Lim had reversed backwards while exiting the lift, causing him to fall.
"The whole vehicle toppled and my dad fell backwards and hit his head. He fell head down, so he suffered a skull fracture and internal bleeding in the brain," Mr Lim was quoted as saying.
He also added that his brother had brought their father to Changi General Hospital, and that after "an X-Ray and two CT scans, [the doctors] determined his brain was bleeding quite heavily".
His father's condition subsequently worsened and he died at 2.14am on Monday.
According to his son, the elder Mr Lim would have turned 78 on May 20.
The lift in question is currently under repair.
The Pasir Ris-Punggol Town Council said in a statement on Facebook that it had been notified of the incident early Sunday morning.
Last October, elderly woman lost her left arm after it was severed by the doors at Block 322, Tat Ching Road.
Investigations revealed that the lift doors had closed as the leash was too narrow to be detected.
An investigation subsequently revealed that there had been nothing wrong with the lift in question, and that the accident had been caused by the leash which had been too narrow to be detected.
More recently, a domestic helper was trapped in a lift that shot up 17 floors on March 7 this year.
Ms Evi Lisnawati, 36, was rescued from the lift at Block 317, Ang Mo Kio Street 31 by Singapore Civil Defence Force an hour and a half later.
prabukm@sph.com.sg
grongloh@sph.com.sg