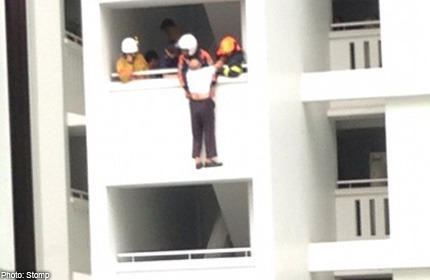 SINGAPORE - An elderly man was seen standing on a ledge between levels 16 and 17 at a block in Casa Clementi last Wednesday. He was eventually helped to safety by police and Singapore Civil Defence Force (SCDF) officers.
In an email to citizen journalism website Stomp, a reader who saw the incident described how a police officer held onto the elderly man until the SCDF arrived and pulled him over the ledge.
Said the Stomp contributor known only as Belle: "I heard shouting from another block in Casa Clementi.
"As I was walking towards the bathroom, I was startled to see this man on a ledge between levels 16 and 17.
"A police officer held on to the man until the SCDF arrived after a gruelling wait of 15 minutes.
"The SCDF officers were able to pull the elderly man towards them and bring him over the ledge to safety."
Belle said the situation was nerve-wrecking, but praised the police and SCDF officers for staying calm and for assuring the elderly man.

Visit STOMP for more stories.