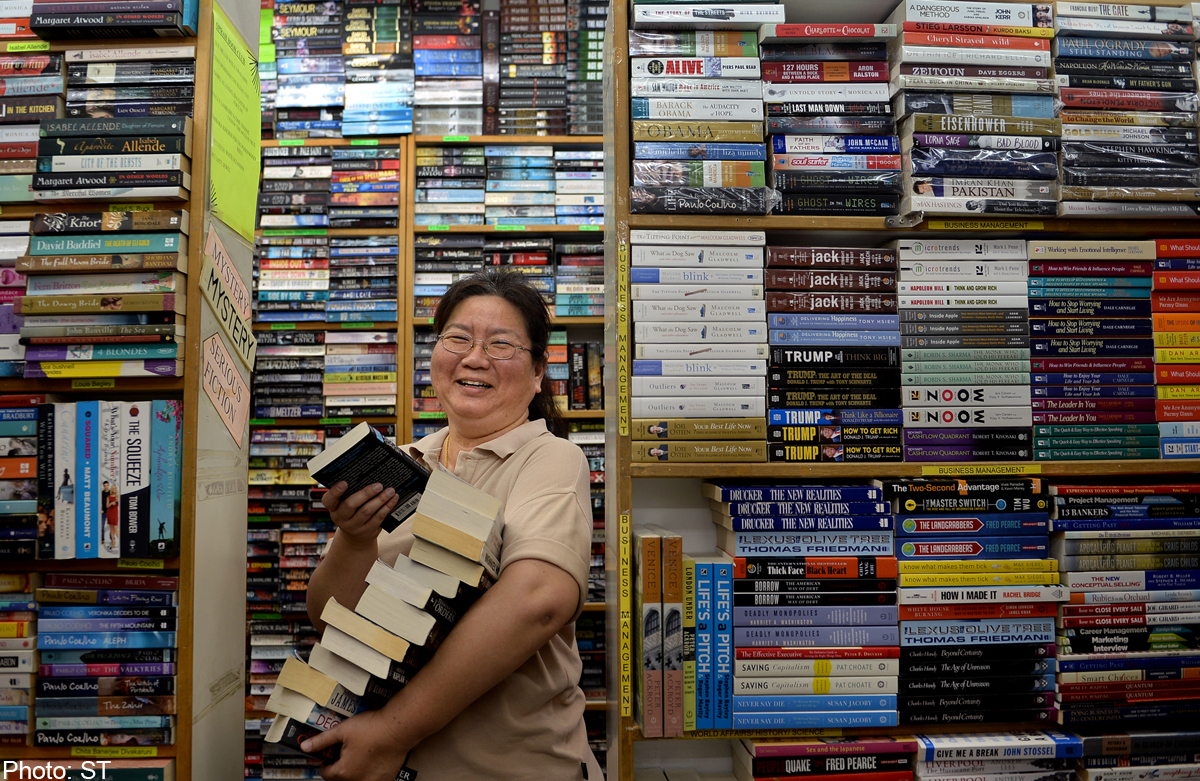 SINGAPORE - Well-known book rental store EMF Bookstore reopens on May 15 at Fusionopolis in One-North, barely two months after closing its 27- year-old flagship outlet at Holland Village in February.
Meanwhile, chain bookstore owner Popular Holdings is dropping its five-month experiment to resurrect the Borders brand at Westgate mall. After May 18, the outlet reverts to a typical outlet of the Popular textbook and stationery chain, with no cafe on the premises.
EMF Bookstore will open a 400 sq ft outlet in the basement of one of the Connexis towers of the Fusionopolis buildings above One-North MRT station. It will offer new and used books for sale and rental, says co-owner Margaret Zhang, 63, whose husband Eddie started the EMF brand in 1987 at Holland Road Shopping Centre. The store has a short-term lease of six months to test the waters, she adds, declining to reveal the monthly rental.
In the 1990s, the EMF book rental chain had at least six stores in Singapore, where readers could buy books and get back most of their money if they returned them within about a month. At the start of this year, there were only two EMF outlets left.
A 500 sq ft space at Holland Road Shopping Centre was given up on Feb 27, with Mr Zhang citing rising rents but declining to reveal figures. EMF Bookstore shut its only other outlet at KK Women's and Children's Hospital last Friday, citing few walk-in customers. Books borrowed from the hospital store can be returned at the Fusionopolis outlet.
Mrs Zhang hopes the Fusionopolis shop will attract new clientele via the eateries and offices in the complex. She is confident that customers who frequented the Holland Road outlet will return.
About 1,800 people signed up on the store mailing list after the flagship shop closed, many placing orders for books and collecting them at ongoing roadshows at shopping centres around the island.
Reader Vernice Chua, 39, who works in sales, has been a regular at EMF's Holland Road outlet since her undergraduate days at the National University of Singapore. She says: "These past few years have been excruciating with all the bookstores closing down, so I'm excited that EMF is coming back."
Another well-known bookstore brand apparently could not make a comeback. Popular Holdings yesterday sent out a press release saying its Westgate mall outlet, which operated under the Borders brand name, will become a Popular store.
Mr Victor Tan, the group's head of business, English, said the chief difference was that the store would no longer operate a cafe. "Borders' brand has not been dropped. We will try to find a better location for Borders," he added.
The 8,000 sq ft store which opened at Westgate last December was Popular Holdings' latest attempt at running a lifestyle bookstore, after its Prologue store at Ion Orchard closed last August.
The group acquired the Borders brand two years ago for an undisclosed sum.
Book distributors are not surprised at the rebranding, with MPH Distributors' senior sales manager Marcus Frois calling it a "well-thought through business decision". Mr Eddy Teo, managing director of Penguin Books Singapore, said: "They probably realised Jurong is not the place for the Borders brand. To be a very high-quality English-language bookstore, you still have to be around Orchard Road.
Mr Frois said: "The local market is already familiar with the Popular brand. Popular had a good store at Jurong East MRT for many years, very near to where Westgate is. The clientele is already there.
"We can't rule out a Borders-type store operating in Singapore in future, but the potential operator will have to deal with ever-increasing rentals and non-committal customers."
This article was published on May 9 in The Straits Times.


Get a copy of The Straits Times or go to straitstimes.com for more stories.