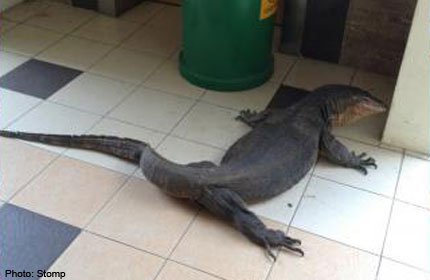 SINGAPORE - You've seen them at lift landings, "hugging" in public, clinging to flat gate grilles and swimming with other people. No, they are not typical Singaporeans; they are monitor lizards.
Several sightings of the reptiles have been posted on citizen-journalism website Stomp in recent months, including a large one at a lift lobby of a Housing Board block in Yishun Ring Road on Saturday, raising concern among members of the public.
A netizen, who wanted to be known only as Adrian, posted a photo of the lizard on Stomp on the day he saw it, and told My Paper that it was caught by the Animal Concerns Research and Education Society (Acres) shortly after. Police officers were also involved.
Acres then released the lizard to the nearby Yishun Neighbourhood Park.
Ms Anbarasi Boopal, Acres' group director of wildlife, said monitor lizards found and "rescued" are commonly released in nearby green areas where they are believed to have come from.
Earlier this month, another netizen posted on Stomp that he saw a large monitor lizard in a canal near a bus stop in Toa Payoh.
In June, a resident spotted a monitor lizard at the void deck of her Ang Mo Kio block near letterboxes.
Undergraduate Athena Wee, 23, said she saw a monitor lizard swimming at a pool in Changi Beach Club last year, before making its way into some bushes.
There were a few swimmers in the same pool, but they were "pretty calm" and "more excited than afraid to see the creature", she said.
Since last year, Ms Anbarasi said the number of monitor lizards that Acres has rescued has been consistent, between four and eight rescues per month.
She added that people started sharing monitor-lizard sightings only more recently due to the rise of social media.
On why the lizards find their way into residential estates, Ms Anbarasi said the reptiles - which can grow to 1.5m in length - might have travelled along a canal to chase prey and got lost.
Monitor lizards are carnivorous and scavenge at times, she added. They feed on frogs, birds, bird and reptile eggs, and dead animal matter.
Mr Ben Lee, founder of nature-conservation and environmental group Nature Trekker, said monitor lizards could be encroaching into housing estates and populated areas due to the "lack of habitat and space, in view of rapid urban development".
But he said monitor lizards are harmless and react aggressively only when provoked.
Ms Anbarasi said that the lizards tend to run away when they see humans, but when they are cornered or approached, they may make a hissing sound and expand their throats to appear larger. They also raise their tails and the hind portion of their bodies as a warning. If approached further, they may whip people with their strong tails.
If someone encounters such lizards, Mr Subaraj Rajathurai, director of Strix Wildlife Consultancy, advised that the person should leave the animals alone. He said: "The (lizards) will eventually go away, because (housing estates) are not the right habitat for them."
He added that monitor lizards should not be confused with Indonesia's Komodo dragons. The former does not have a venomous bite, unlike the latter.
But Ms Anbarasi warned that the bite of a monitor lizard can still leave a puncture wound which could become infected, just like those from any animal bites.
If monitor lizards are seen in buildings, on the roads or visibly injured, the public can call Acres on its 24-hour wildlife-rescue hotline at 9783-7782.
tanjoce@sph.com.sg

Get My Paper for more stories.